On MSNBC, Soldier Booed At GOP Debate Weighs In On Obama's Gay Marriage Endorsement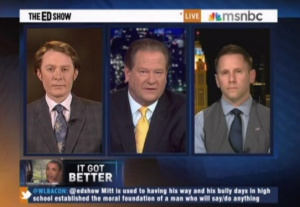 Army Capt. Stephen Hill — the soldier who was booed at a GOP debate for asking the candidates whether they'd reinstate the "Don't Ask Don't Tell" policy — paid a visit to Ed Schultz on Thursday, to discuss President Barack Obama's gay marriage announcement. Hill was joined by singer and LGBT activist Clay Aiken.
RELATED: Audience Members Of GOP Debate Boo Stephen Hill, Gay Soldier Serving In Iraq
Aiken said the president's support has an "incredible impact" — specifically to young LGBT people who will be empowered by hearing their president speak out for their rights. The president's stepping out on "the right side of history" is particularly notable, he said, because of his stature as such a prominent figure.
Hill said the president's announcement was everything he fought for in the military for 20 years.
Pivoting to today's story about Mitt Romney's reported high school anti-gay bullying incident, Aiken responded that it's "heartbreaking" and "a little frightening" — coming from someone who has been bullied. Romney's apology, he said, was "disheartening" because it "was sort of half-assed, if you will."
Taking caution, given his being in the military, Hill clarified he was speaking for himself before commenting that he would treat others the way he wants to be treated. "It's how I live life," he said, and how everyone should live. But "that's all I can say about that," he concluded.
On a more political note, Aiken noted the contrast between the two choices in November. They have starkly different records on LGBT rights, he said, and Obama is the most accepting president we've had.
Schultz then got around to Romney's reaction to the event at which Hill was booed. Asked about it, Romney had said he doesn't make it a practice to scold his audience and that he didn't recall whether people were booing Hill's question specifically.
Asked about his reaction to Romney's handling the situation, Hill somewhat sidestepped the question by saying that Obama handled a politically inconvenient situation in a better way on Wednesday, which gave him pride.
More bluntly, Aiken said Romney handled it "half-assedly," hoping that, as president, he'd be able to take a stand.
Take a look, via MSNBC:

Have a tip we should know? tips@mediaite.com