On O'Reilly Factor, Law Professor Says John Roberts Should Resign Over Obamacare Ruling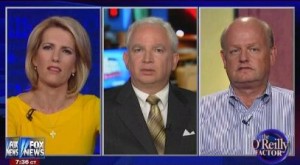 Chief Justice John Roberts, normally a reliably conservative member of the Supreme Court, stunned quite a number of people when he sided with the four more liberal justices and upheld the entire Affordable Care Act yesterday. On The O'Reilly Factor today, guest host Laura Ingraham gauged the right's reaction to the ruling, and one of her guests went as far to suggest that Roberts should resign from the bench.
RELATED: Judge Napolitano On Justice Roberts' Ruling: 'I Don't Think He Made The Constitutional Decision'
Ingraham asked her guests if conservatives are right to feel "mortified" about Roberts being a turncoat. Michael Carvin, a constitutional lawyer opposed to Obamacare who argued before the Supreme Court on this case, boiled Roberts' decision down to "What Congress did… was unconstitutional, so I'm gonna pretend they did something different and make it constitutional." He credited Roberts for being "a terrific lawyer who understands the rule of law," but admitted that unlike Coulter, he did not see a ruling like this coming.
Law professor John Eastman also found the ruling somewhat questionable, stating that the role of the Supreme Court is to tell Congress whether they have or don't have the authority to do something. And for Roberts to do what he did and find and alternative way to keep it constitutional, Eastman concluded that the chief justice needs to resign.
"If the assumption is right, that he thinks was unconstitutional but found a way to uphold it to preserve the integrity of the court, then he really ought to resign because it proves he doesn't have the judicial fortitude to do the job that he's been chosen to do."
Ingraham observed that Roberts could have just as easily made a last-minute turnaround in where he came down on the case, perhaps to preserve the integrity of the Supreme Court and ensure a bipartisan consensus over the legislation. Eastman suggested that Roberts was influenced by "political pressure," which is exactly the reason the justices are appointed, not elected.
Watch the video below, courtesy of Fox News:
—–
Follow Josh Feldman on Twitter: @feldmaniac
Have a tip we should know? tips@mediaite.com
Josh Feldman - Senior Editor