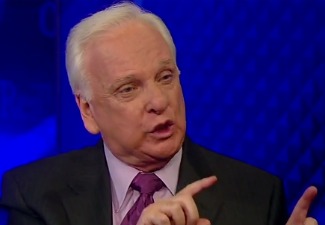 Bernie Goldberg joined Bill O'Reilly Monday night to hammer the media's MH370 coverage, and Goldberg agreed completely with O'Reilly's analysis, except to lump in Fox News in with the other networks in saying their credibility was, too, damaged by having people on air to engage in baseless speculation about the missing plane.
He specifically slammed Fox for giving airtime to retired Air Force General Thomas McInerney for throwing out a suspect theory that the plane could be used to commit an act of terrorism against the United States. Goldberg didn't hold back in what he thought of Fox giving that theory attention at all.
"When a retired general goes on this network and talks about how he has sources who tells [sic] him the plane is in Pakistan or eastern Iran and it'll probably be used as a weapon to attack the United States or an aircraft carrier or Israel, that doesn't just embarrass him, that embarrasses––that speaks to the credibility, in my view, of the entire network."
Both men bemoaned the sensationalization of the news business, and Goldberg lambasted both CNN and Fox for "breaking news" alerts that are "either old news, no news, or just more dumb speculation."
Goldberg also had some harsh words for Don Lemon for bringing up the possibility of a black hole on the air, calling the question "so stupendously dumb, so monumentally, jaw-droppingly stupid," and went as far as suggesting Lemon "should be fired" for daring to entertain the very idea.
Watch the video below, via Fox News:
[photo via screengrab]
— —
Follow Josh Feldman on Twitter: @feldmaniac
Have a tip we should know? tips@mediaite.com
Josh Feldman - Senior Editor