On O'Reilly, Gutfeld Calls Out Liberal 'Double Standard' On Richard Dawkins' Controversial Islam Tweets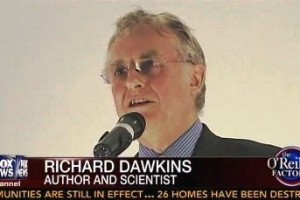 Atheist icon Richard Dawkins got in some hot water this week for controversial tweets about the Muslim faith, being accused of racism for mocking remarks about the lack of scientific progress in the Muslim community. On The O'Reilly Factor Friday night, Greg Gutfeld didn't quite defend Dawkins, but he did call out the "double standard" of Dawkins getting lots of flak for tweeting about Muslims when he tweets a lot about Christians too and no one ever gets offended by that. Gutfeld found it interesting how too many people have this kind of double standard when it comes to attacks on Islam versus Christianity, saying it may be due to people being fearful of violent backlash.
Dawkins started getting roundly condemned after firing off this tweet.

His subsequent defense did not do much to stem the angry tide, but Gutfeld observed, "There must be thousands of tweets like this about Christianity from every comedian." Cathy Areu called Dawkins' tweet "very tacky," and noted how he is bending over backwards to explain himself without actually apologizing. Gutfeld said this would never happen with an anti-Christian tweet.
Gutfeld charged that every time people make similarly insulting comments about Christians, there is no outcry. Areu explained to Gutfeld Christians are "fair game" because they're the majority. Gutfeld thought the answer was much simpler: a lot of big-name celebrities don't make fun of Muslims "because they don't want to die."
Watch the video below, via Fox News:
—–
Follow Josh Feldman on Twitter: @feldmaniac
Have a tip we should know? tips@mediaite.com
Josh Feldman - Senior Editor