On O'Reilly, Pastor Jeffress Clashes With Atheist Over Obama Admin's 'Attack' On Religion
On
O'Reilly
, Pastor Clashes With Atheist Over Obama Admin's 'Attack' On Religion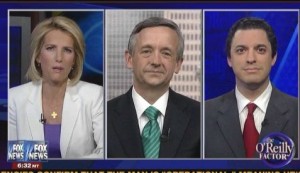 On Monday night, Laura Ingraham (filling in for Bill O'Reilly) pondered whether the role of religion in the office of the presidency has changed — discussing the topic with Pastor Robert Jeffress and David Silverman, president of American Atheists. Drawing from new polling, the panel disagreed on how religion has (or hasn't) influenced President Obama's policies.
Ingraham noted some new numbers from Gallup to preface the segment. According to the poll, 34 percent of respondents said they believed Obama is Christian. Eleven percent said they believed he's a Muslim, and 44 percent said they don't know. In another poll, 54 percent of respondents said they would vote for an atheist president, compared to 43 percent who said they would not.
Silverman called the trend "a progression towards tolerance," or "the de-bigoting of America." It doesn't mean we're going to become an anti-religious nation, he said. "But you would prefer that," Ingraham responded, which Silverman refuted, saying we need to "get to a point where people can be who they are and not be judged simply on that fact."
Ingraham didn't buy the argument, referring to a culture that calls into question Christianity and belief in God — pointing to shows like Modern Family, Glee and Desperate Housewives (not exactly "Christian fare"). Silverman argued television is "reflective," that it doesn't cause the evolution.
Moving on, Ingraham turned to Jeffress, who said he takes Obama's identification as a Christian "at face value" — but then noted some of his anti-Christian policies, offering his stance on abortion and same-sex marriage as an example. Silverman took issue with the assertion that the Obama administration is launching an attack on people of faith, which Ingraham countered by mention the contraception mandate (which, you'll surely recall, has been a central point of contention for some religious groups).
Because he's an atheist, Ingraham said of Silverman, he doesn't understand. He doesn't understand that people of faith feel like "second-class citizens" under this administration.
Take a look, via Fox News:

Have a tip we should know? tips@mediaite.com