On Plans For A Future Katie Couric Interview, Sarah Palin: 'Why Waste My Time'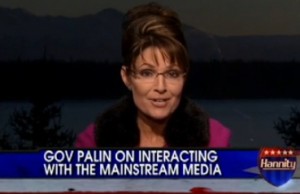 If you find that your Sarah Palin needs are somehow unsated, good news! Tonight she sits down with Fox News' Sean Hannity and reveals that she wouldn't bother sitting down again with CBS Evening News Anchor Katie Couric, calling her 'a reporter who already has such a bias against whatever it is that I would come out and say?'
TV Newser has the transcript:
"As for doing an interview, though, with a reporter who already has such a bias against whatever it is that I would come out and say? Why waste my time? No."

"I want to help clean up the state that is so sorry today of journalism. And I have a communications degree. I studied journalism, who, what, where, when, and why of reporting. I will speak to reporters who still understand that cornerstone of our democracy, that expectation that the public has for truth to be reported. And then we get to decide our own opinion based on the facts reported to us."

"So a journalist, a reporter who is so biased and will, no doubt, spin and gin up whatever it is that I have to say to create controversy, I swear to you, I will not my waste my time with her. Or him."
Couric's interview with then Republican Vice Presidential candidate Sarah Palin in the Fall of 2008 raised many eyebrows because the then Alaska Governor seemed unwilling to reveal the specific magazine titles that she read, among other bon mots that many saw as damaging to the McCain-Palin ticket.
(H/T TV Newser)
Have a tip we should know? tips@mediaite.com