On The Five, Dana Perino Grows Agitated Over Eric Bolling's 'Disgusting' Name Calling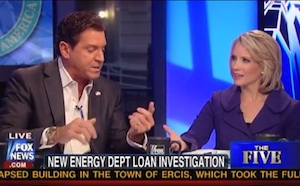 On Thursday's edition of Fox News's The Five, Dana Perino admonished panelist Eric Bolling for mocking Energy Secretary Steven Chu with a mask on a stick.
"I think it's disgusting the way we name-call here on both sides," Perino said. "This is a guy who was an accomplished scientist. Maybe he shouldn't have been in charge of the green energy loan program going out. It wasn't as if both Republicans and Democrats didn't ask for the program in the first place."
The panel had been discussing yet another green loan kerfuffle, and Perino had cast the issue as a problem for both Republicans and Democrats.
This didn't sit well for Bolling, who disagreed with Perino's analysis. "Why are you blaming Republicans? Where did that come in? These are loans under Steven Chu?" Bolling argued.
"Both Republicans and Democrats voted for the money, approved it and lobbied for some of it. Not for this in particular, but overall…" Perino reasoned.
Bolling criticized government loans going to Nissan as incentive for the Leaf. "Wait a second, Eric!" Perino said. "Nissan has a lot of American employees."
"It's a Japanese company!" Bolling countered.
"There are plenty of Republicans and Democrats that both lobby for this money," Perino continued. "They wanted the program in the first place. They ask for it and they lobbied…I also think that Secretary Chu –"
"Underqualified!" interjected Bolling, before being chided by Perino.
Bolling appeared to be frustrated that the green loan flaps haven't stuck to the Obama Administration. The Wall Street Journal conducted a recent poll that showed voters viewed green companies like Solyndra more as "bad apples" rather than "indications of a systemic problem" and they still overwhelmingly favored support for renewable energy programs.
Watch Bolling and Perino trade words below, via Fox News:

Have a tip we should know? tips@mediaite.com