On The Five, Gutfeld Accuses Media Of Only Caring About 'Racially-Charged Component' Of Zimmerman Trial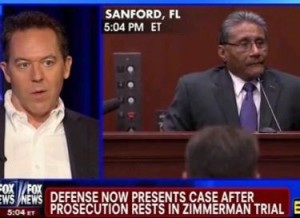 The hosts of The Five today reacted to the prosecution in the George Zimmerman murder trial wrapping up its case with the testimony of Trayvon Martin's mother, his brother, and a medical examiner involved in the case. Kimberly Guilfoyle said bringing on Martin's mother was a clear "emotional ploy" to the jury, while Katie Pavlich noted the reason the defense is bringing Zimmerman's mother to the stand is because they want to show that he is also somebody's son.
Bob Beckel said the big issue is credibility, which he found Zimmerman to be lacking by exaggerating the nature of his injuries.
"If this guy Zimmerman was in such danger–he had a few cuts on his head, I mean, you don't take a gun and shoot a guy 'cause he happens to hit you in the head. I think he's a wuss."
Greg Gutfeld broke the fourth wall and shut down the idea that anyone is going to learn anything or have their opinions change of the case by watching the trial unfold. He said the media's only interested because of the "racially-charged component" and due to the fact a gun was used.
Jesse Watters found it striking just how many of the prosecution's witnesses backfired on them, including the medical examiner who testified today and got "shredded" by the defense. Pavlich added that the defense practically opened its case with Zimmerman's mother to help show the jury that "George Zimmerman is someone's son too."
Watch the video below, courtesy of Fox News:
—–
Follow Josh Feldman on Twitter: @feldmaniac
Have a tip we should know? [email protected]
Josh Feldman - Senior Editor