John Heilemann: Will Speech Date Pissing Match Detract From Obama's Jobs Message?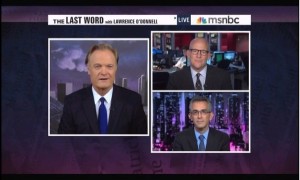 On The Last Word Wednesday night, host Lawrence O'Donnell invited guests Richard Wolffe and John Heilemann to discuss House Speaker John Boehner and other Republicans' response regarding Barack Obama's request to address a joint session of Congress to coincide with a GOP presidential debate.
O'Donnell kicked off the segment by showing radio host Rush Limbaugh's strategic advice to Boehner not to allow Obama to essentially steal away Independent voters by focusing on jobs — which is all American care about right now anyway — and making himself look "bigger" than Republicans (which is all something you can read more about right on over here).
O'Donnell good-naturedly (sure it's a phrase) joked about having to admit Limbaugh had a point, although Wolffe felt the reaction to normal, "presidential" behavior on Obama's part was "out of proportion." Heilemann, meanwhile, agreed with Limbaugh on some points and discussed the whole thing in terms that were a bit more… colorful:
Rush Limbaugh was right in one respect, at least: the White House clearly was playing politics here, clearly intended to upstage the Republican debate, thought that he was doing something smart and clever and tough politically, though that Boehner would fold, and now is in the middle of this fight. The main point that I see here is that if this if is the kind of fight that we're having — this kind of childish squabbling pissing match that we're seeing already over just this speech — does anybody really think there's a chance that there's going to be any way for these two parties to come together and actually pass any legislation that will actually help the economy that will come out of this speech? I think not.
Have a look at the segment, from MSNBC:
Have a tip we should know? tips@mediaite.com