One Direction Mind: Conservative Site Mistakes Bill Maher Boy-Band Joke For 'Racist Joke About Trayvon'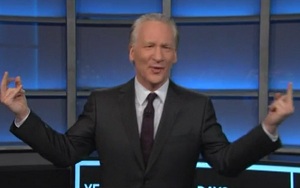 On Friday night's Real Time, host Bill Maher made a joke about boy-band One Direction that crashed and burned like a cymbal with a rash, as he suggested that the judge in Trayvon Martin shooter George Zimmerman's bail hearing would permit Zimmerman to gun down the pop quintet. Newsbusters' Noel Sheppard, fresh off of warning CNN's Don Lemon of an impending "race-war," mistook the joke for some kind of racist jab, penning a post entitled "Bill Maher Curses Out Audience for Not Laughing at Racist Joke About Trayvon Martin and George Zimmerman," which he later corrected.
I agree with Maher's audience, his joke was unfunny, and in poor taste. Here's the transcript, via Newsbusters:
Now the other guy who had a good day today, George Zimmerman down in Florida, he got bail. Mr. George Zimmerman, he promised a judge, he said until the trial he promised not to shoot any unarmed teenagers. And the judge made an exception, he said, "For One Direction. If you want to shoot those kids, that's fine."
When the audience reacted with silence, he added "Oh, fuck you, I mean seriously. People, the show has started. We're on HBO, we're in California. You can get the stick out of your a–. It's just a joke. We're not really going to shoot the kids from One Direction."
The joke fails on many levels, the least of which is the hackneyed premise of mocking boy bands. The punchline was needlessly, artlessly violent (let's hope Maher doesn't inspire Jodi Foster-like devotion in any of his fans), and the setup didn't match the payoff. If you're going to be that irreverent about a tragedy that recent, there's a high bar for the dismount that Maher doesn't come close to sticking.
Sheppard later updated his post with an apology, and an explanation that was probably also true of Maher's audience: he didn't know who One Direction was:
Now, to be fair to Maher, my ignorance of boy bands was showing Saturday.

This article was originally titled "Bill Maher Curses Out Audience for Not Laughing at Racist Joke About Trayvon Martin and George Zimmerman." I didn't realize the HBO Real Time host was referring to the popular British-Irish singing group.

I thank the eagle-eyed NewsBusters reader Erik for bringing this to my attention via email, and apologize to Maher for accusing him of making a racist joke about Martin and Zimmerman.
For the most part, I can sympathize with Sheppard on this one. Until last week's Saturday Night Live, I had never heard of One Direction, and even knowing the band's name, Maher's joke was still confusing. At first blush, it sounded like the judge would be fine with Zimmerman shooting in one particular direction.
It's also true that Maher has a history of racial humor that reinforces stereotypes, rather than satirizing them. But how that all adds up to the "one direction" Zimmerman would be shooting in would be at black kids is a bit of a mystery, unless you're the kind of guy who sees six black shooting victims, and fears a black war on white people. With that kind of logic, conservatives must be completely scared shitless of deer.
Still, Sheppard deserves credit for apologizing, and for trying to call out racism when he sees it. It's too bad he only ever sees it from one direction.
Here's the clip, from HBO's Real Time with Bill Maher:
Have a tip we should know? tips@mediaite.com