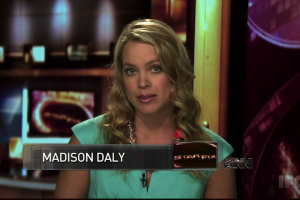 Jill Dobson has been reporting on entertainment news everywhere from CNN, CBS, to Fox News. She's on a new network now and she's still doing talking entertainment. Only, now, the stories are entirely made up. That's because Dobson is one of Onion News Network's secret weapons: an actual journalist pretending to be a fake one.
Watching the new show (our review here), one certainly gets the feeling of how exact all the details are in the imitation. Perhaps the biggest detail is the can't miss sound of the fast-talking news anchors. When Dobson is, say, reporting on time traveling soldiers attacking Suri Cruise, she sounds exactly as she does when she's on CBS talking about Mel Gibson's real life troubles.
This trick is nothing new to The Onion. When the Onion News Network began as Internet-only shorts, they hired Bobbie Batista to play herself. While all the journalists on the new show play fictionalized characters instead of themselves (Dobson, for instance, plays ONN's entertainment correspondent Madison Daly), their expertise clearly helps the show's feel.
Dobson gave an interview discussing her role to the Kalamazoo Gazette:
"'I certainly feel it's a step in the right direction for my career … this fits my personality a little more,' said Dobson, who is also a contributor on CBS' 'The Early Show' and 'The Saturday Early Show,' CNN's 'Showbiz Tonight' and several programs on VH1.

Dobson called the ONN writers 'genius' and said she doesn't write any of the material for the show, which will feature outrageous segments presented in a very similar fashion to real TV news. For example the ONN trailer opens with Sena introducing a panel discussion by saying, 'Congress today re-authorized funding for Facebook, the massive online surveillance program run by the CIA.'

'I wish I could take credit for the material,' Dobson said. 'The Onion writers are very edgy and they don't mind crossing the line. When I read the script there were some things I thought, "Can I say this? Should I say this?"'"
While we shouldn't take away from the great actors and comedy veterans that fill out the cast of the show, it's a particular joy to hear the ridiculous jokes the writers come up with coming out of the mouths of seasoned news professionals.
Have a tip we should know? [email protected]