One Pathetic PR Storm: Weather Channel's Strategy in DirecTV Fight Is Laughable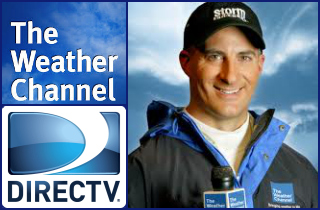 The people running The Weather Channel appear to be stuck in the year 1982.
That was when the unthinkable happened: The launch of a channel based in Atlanta that focuses on nothing but weather 24 hours a day. At the time, it appeared almost as stupid an idea as the idiots in Connecticut who actually believed that an all-sports station called ESPN could find enough viewers to survive.
But with great risk comes great reward, and both The Weather Channel and ESPN are staples on the cable dial (and in ESPN's case, it has become the greatest success in the history of television). But TWC–in a PR move that can only be described as the height of unintentional comedy–believes viewers are actually dumb enough to believe that the forecasts and weather information it provides are actually crucial to one's safety.
As you may have heard, TWC (now owned by NBC Universal, The Blackstone Group and Bain Capital) is embroiled in a distribution deal dispute that seems to happen once every few weeks between networks and carriers these days. The fight is over a small increase in subscriber fees (the amount varies depending on which side you believe). But regardless of dollars and cents, the playbook in these situations is always the same: Network (TWC) goes public accusing carrier (DirecTV) of greed while finding a part of its programing that (it deems) indispensable to the audience. For example, in CBS' case when battling Time Warner Cable in New York last year, the network had all the necessary leverage it needed to win via its Sunday NFL package.
But in TWC's case? Well…meteorologist Jim Cantore states the case for the network below:
"If DIRECTV drops The Weather Channel, it means the families living in 20 million homes are at risk in times of severe weather without the vital information they are accustomed to getting from The Weather Channel…I feel it's just irresponsible for DIRECTV to drop The Weather Channel and deny their viewers access to critical and potentially life-saving information in times of severe weather. I think it's a dangerous gamble to put lives at risk for a penny. I think you'll agree. Nobody can do weather like we do. Nobody."
Actually Jim, there are PLENTY of other options for those looking for a weather forecast, particularly during storm situations. Local news—largely relying on the National Weather Service and Doppler Radar—has very capable meteorologists to forewarn all potentially at risk before severe weather strikes. In fact, one major weather talent your execs just signed to much fanfare (and for millions of dollars)—Sam Champion—was on the air locally here in the New York area for 25 years on ABC-7. There's also local radio, satellite radio (which offers traffic and weather every other minute 24/7), and…look at that! It's that weather app on my iPhone I check every morning before walking the dog. Not to mention the cable news networks that go all-in on weather when bigger-than-usual storms are coming. Many local communities–particularly in Tornado Alley–have advanced warning systems that didn't exist before as well.
The Weather Channel also acts as if it still provides live weather updates 24/7. Sure, it once did…but similar to MTV and its move away from its core business (playing music videos), taped programming now eats up considerable chunks of time on TWC. Live weather updates have been replaced with alternative programming (shows like Storm Stories, weather-related movies, etc.) from 2:00 PM-5:00 PM ET, 8:00 PM-4:00 AM ET on weekdays and 2:00 PM to 4:30 AM ET on weekends. That's over 80 hours of live programming per week for those keeping score at home.
What TWC also fails to mention is a pretty important item: A dwindling audience. Despite being available in 100 million U.S. homes, the network only averaged 214,000 daily viewers in 2013. That's down from 264,000 in 2011, according to Nielsen. The aforementioned increased competition and options will only continue to shrink that audience in the future.
With those facts in mind, DirecTV isn't taking this PR stunt lying down:
"We launched WeatherNation (DirecTV channel 361) as an alternative to provide 24/7 hard news weather coverage in response to numerous customer complaints that more than 40 percent of The Weather Channel's programming is dedicated to reality television shows. DirecTV also offers city-by-city weather coverage on more than 1,400 local broadcast stations and on DirecTV's emergency channels in times of severe weather."
Earlier this week, TWC called on Congress to intervene in the name of public safety. Thankfully, it doesn't look like that request will be granted.
Another week, another subscriber fee dispute…
The Weather Channel thinks it is deploying the right strategy by playing on people's fears.
But thanks to infinitely more options, advanced technology at the local level and a major shift away from its mission statement of, you know…doing the weather like it once did when the channel first launched 32 years ago…
This is one forecast that is forcing no one to run for cover.
— —
>> Follow Joe Concha on Twitter (@ConchaMedia)
This is an opinion piece. The views expressed in this article are those of just the author.