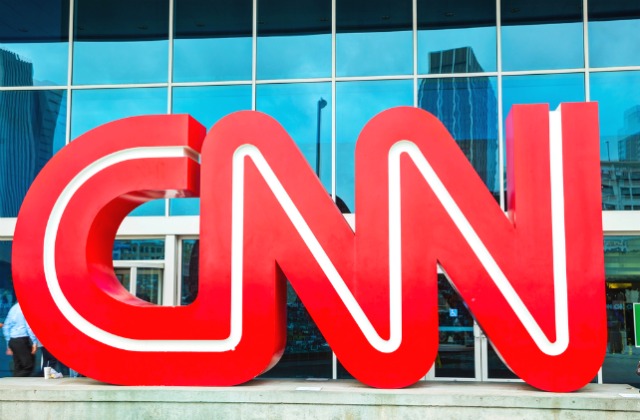 One thing that has become clear in the Age of Trump is that more and more people are tuning into cable news programming to get their information on what's going on in the world of DC politics. And with the ratings in for the month of October, it should be noted that CNN is continuing to expand its audience as it carves its place as the cable destination for breaking news and in-depth reporting.
For the month, the network placed 6th among total viewers and 11th in the key 25-54 demographic for all cable networks when it came to total day viewership. In Monday-Friday primetime viewership, the network ranked 8th in all of a cable. October represented the 3rd straight month that CNN was in the top ten of all cable networks in both total day and M-F primetime viewership.
For the year, CNN looks to be on pace to secure its highest ever number when it comes to total day viewership in both total viewers and the key demo. It also looks like it will have one of its best years in primetime viewership as the network should end with its second largest viewership in primetime since 2008.
One thing to truly pay attention to is that CNN is bringing in a younger overall audience than its two main cable news rivals. So far this year, CNN's audience is five years younger than both MSNBC and Fox News in total day viewership and seven years younger than Fox News and six years younger than MSNBC in M-F primetime. At its current rate, the audience for CNN will be at its youngest since 2008.
Of course, the wave of news leads to a rising tide that lifts all cable news boats. So Fox News and MSNBC are also enjoying quite a bit of success in their own right. For example since moving to the 9 PM time slot, Fox News' Hannity has become the number one show in all of cable news. The program Hannity goes head-to-head against, MSNBC's The Rachel Maddow Show, continues to see its viewership expand as it averaged 2.5 million total viewers and 558,000 in the key demo. And in its debut night, Fox News' The Ingraham Angle scored ratings wins in total and demo viewers.
What separates CNN from its competitors is that, during a period of general turmoil in the White House, it has provided viewers with a news-driven alternative to the largely partisan and ideological directions offered by its competitors. Unlike Fox News and MSNBC, there are no pure opinion shows that air on the channel during the week. And despite what Trump and his loyalists call "fake news" for negative coverage, CNN still promotes enough Trump surrogates to earn critique from progressive media watchdog Media Matters.
Fox News has definitely taken a very pro-Trump direction in 2017 and, outside of a few exceptions, all of its on-air programming is geared towards conservative opinion. MSNBC, meanwhile, has positioned itself as the resistance to Trump, and is driven by a combination of opinion and news shows that take a decidedly anti-Trump bent. And the consistent oppositional point-of-view has seen a boon in increased viewers as well.
CNN, on the other hand, has given its viewers exclusive and breaking news coverage. In just the past month, its highly talented and experienced news staff has broken stories such as the first charges being filed in the Mueller investigation, five women accusing political pundit Mark Halperin of sexual harassment, Mueller's team meeting with Christopher Steele and Putin's "chef" being behind the notorious Russian troll factory.
Those exclusive news reports also help highlight one of CNN's major strengths — its expansive digital outreach. In September, CNN Digital extended its streak to 16 straight months as the most visited news source on the web. And besides CNN Digitial besting all other news outlets, CNN sites such as CNNMoney and CNN Politics have been leading their respective fields in traffic.
It would appear, at this point, that the president's constant haranguing of CNN has only made news consumers seek out the outlet, rather than flee it.
[image via screengrab]
—
Follow Justin Baragona on Twitter: @justinbaragona
Have a tip we should know? [email protected]