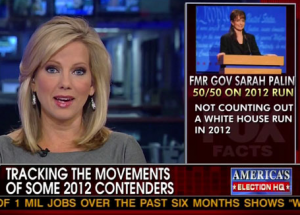 No doubt 30 Rock's Tina Fey does a great impression of Sarah Palin. But surely she's not such a dead ringer for the former Alaska governor and current One Nation bus touring non-candidate that she'd ever be confused for the real thing in a news story–and if, somehow, she was, you can bet it wouldn't happen at Fox. I mean, she works there, so you'd assume they have a pretty good idea what the lady looks like. Right? Um, right?
Oh boy. On Sunday, a story about Palin being "50-50" on getting into the 2012 campaign included a graphic–featuring Tina Fey as Palin in an SNL skit from 2008. This one likely won't go down quietly at Fox, which has had a few Palin-related screwups over the years, resulting in a strongly-worded memo to staff: cut. it. out:
Effective immediately, there is zero tolerance for on-screen errors. Mistakes by any member of the show team that end up on air may result in immediate disciplinary action against those who played significant roles in the "mistake chain," and those who supervise them. That may include warning letters to personnel files, suspensions, and other possible actions up to and including termination, and this will all obviously play a role in performance reviews.
Here's a larger version of the image used in the Fox segment: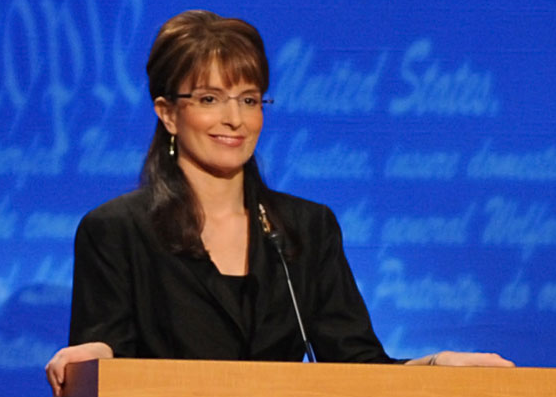 Update: David Clark, Executive Producer of Weekend Programming, FOX News released the following statement:
"This past Sunday during 'America's News Headquarters,' a graphics error was made during a segment on former Alaska Governor Sarah Palin. The producer has since been disciplined and an explanation and apology will be made in the same hour next Sunday. Fox News regrets the error."
http://www.mediaite.com/tv/oops-fox-news-uses-tina-fey-graphic-in-sarah-palin-story/
Here's yesterday's error, from Fox News via Crooks and Liars:
Have a tip we should know? tips@mediaite.com