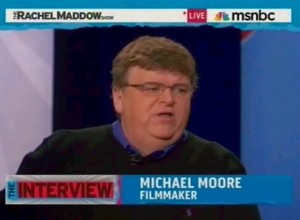 Liberal titans Michael Moore and Rachel Maddow met last night on MSNBC and, in addition to a discussion of the serious issues of Wikileaks and Julian Assange's rape charges, found themselves in the middle of a bubbling up religious controversy. Moore cited his religion as justification for his belief that all people, even Assange, have a right to be presumed innocent until proven guilty. The exchange that followed, however, suggested when taping outside of a studio and in front of a crowd, both can get a little confused about the issue of religion.
Moore: I was raised a certain way. And I was raised to be a good Christian and if I can say that here.

Maddow: Yeah, what do you mean? It`s the YMCA. Do you want to know what the C stands for? Don't worry.

Moore: I was going to say the Islamic Community Center is doing quite well here in Manhattan.
Let's address Maddow first, because actually her misnomer may exonerate Moore from conservative criticism of another liberal being afraid to embrace Christmas. The Rachel Maddow Show was actually being taped at the 92nd Street Y which was founded as the Young Men's Hebrew Association and is a "proudly Jewish institution."
In other words, Moore was likely just joking about being able to say the word "Christian" in a Jewish place. Maddow, apparently thinking she was filming at the Young Mens Christian Association, didn't get the joke. Notice how the crowd laughs at Moore, and not at Maddow. Although given that Moore doesn't correct Maddow either and randomly brings up Islam, it seems the real rationale behind Moore's questioning whether he could say "Christian," may still remain a mystery.
Watch the confusing exchange from MSNBC below:

Have a tip we should know? tips@mediaite.com