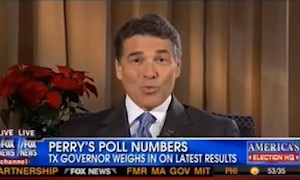 Struggling Republican candidate Rick Perry appeared on Fox and Friends this morning and made yet another gaffe, referring to the New Hampshire Primary as caucuses. "Americans haven't decided yet at all who they want to lead the Republican nomination," Perry said, countering Steve Doocy's suggestion that the GOP nomination had come down to a two-person race. "And we're going to be talking about that and we're going to be talking about it in harsh and strong terms over the course of the next four to five weeks as we get ready for those New Hampshire caucuses."
RELATED: Constitution Mis-State: Rick Perry Mistakes Voting Age For 21 In New Hampshire Speech
Oops.
None of the Fox and Friends anchors caught the goof, but keen-eyed NBC reporter Carrie Dann zeroed in on the mistake.
Perry's run for the president has been a carnival of errors and not knowing New Hampshire actually has primaries could be his biggest gaffe yet. How can the Texas Governor appeal to voters in a state where he can't even get the process by which they vote right?
Courtesy of Ask Yahoo! from 2000:
A caucus is:

"a private meeting of members of a political party to plan action or to select delegates for a nominating convention."

Whereas, a primary is:

"[an] election held to nominate a candidate for a particular party at a forthcoming election for public office."
RELATED: At GOP Debate, Rick Perry Can't Remember Third Agency He Would End As President
As his mistakes continue to pile up and his poll numbers continue to plummet, it seems as if voters are fast coming to the conclusion that Perry was not quite ready for primetime.
Watch Perry's latest flub via Fox News:

(
h/t Carrie Dann
)
Have a tip we should know? tips@mediaite.com