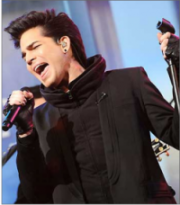 A day after rushing to give cover to ABC for imposing a performance exile on Adam Lambert, the Gay & Lesbian Alliance Against Defamation has shifted its position–again–and now says ABC should get the gay community's scorn for its treatment of Lambert.
Yesterday, GLAAD was forced to issue a second press release to try to clarify why it was giving ABC a pass for banning Lambert from Jimmy Kimmel Live and ABC's New Years Rockin' Eve.  But now, after a day of endless criticism online, GLAAD has shifted its position and now thinks ABC does have a double standard after saying yesterday it didn't.
"We appreciate ABC's commitment to gay and transgender inclusion in other programming," GLAAD president Jarrett Barrios said in the one paragraph statement. "However, let us be clear that GLAAD remains steadfast in our assertion that Adam Lambert is being subjected to a double standard by ABC as an openly gay performer. We do not support ABC cancelling Adam Lambert's past and future performances. We urge the community to reach out to ABC and express their concerns that Adam Lambert is being subjected to a double standard."
That's a very different position than what GLAAD took just 24-hours earlier, when the group said "It would appear that the kiss between Adam Lambert and his keyboardist did not factor into ABC's decision."
So why the dithering?
GLAAD has long been criticized for being irrelevant and more interested in pleasing corporate donors–including ABC and the other networks–than advocating for LGBT issues.  Under former president Neil Giuliano, the organization's mission and staff expanded but became less involved in entertainment advocacy. It also came under criticism for giving its seal of approval to I Now Pronounce You Chuck and Larry.
Under Barrios–who joined GLAAD in September after a career as  a former legislator in Massachusetts who went on to head Blue Cross Blue Shield foundation in the state–the organization continues to be unfocused.  Before Lambert, GLAAD spent November switching its positions on the "faggot" episode of South Park, first slamming the animated show before saying it changed its mind.
These flip-flops and lack of direction were the focus of criticisms the day after GLAAD approved ABC's Lambert exile.
Gay activist and Sirius radio host Michelangelo Signorile tweeted that Barrios had turned own the opportunity to appear on his radio show.  Earlier in the day, Signorile tweeted "What is wrong with this group? We must stop them. GLAAD is useless most times, hurting us other times" and "U ask how can GLAAD back ABC re: Lambert? Easy: ABC buys tables @ their endless awards. Not media watchdog; more like puppy."
At gay news and gossip site Queerty, the bloggers said "GLAAD's involvement in the Lambert situation is actually harming the gay community. As our self-appointed representatives, GLAAD is telling America that ABC's treatment of a gay man is just fine, nothing to see here, move along."
There's no question GLAAD is in a tough spot.  ABC does have a good record of featuring positive portrayals of LGBT people and programming doesn't get much gayer than ABC's hit Dancing With the Stars. But the network's kneejerk reaction to Lambert's antics on the American Music Awards has not been a profile in courage and GLAAD has only made the situation worse by shifting its position on ABC's behavior on a daily basis.
While fans shouldn't expect Lambert to gyrating with Ryan Seacrest on ABC this New Years Eve, the more interesting dance to watch may be how GLAAD recovers from its blunders.
Have a tip we should know? tips@mediaite.com