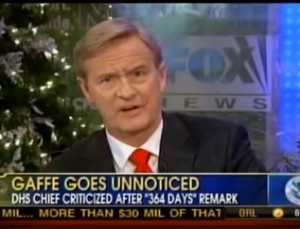 The fight to defend the Homeland may only be a 364-day-a-year job, but cracking on gaffes–especially when they slip from the tongues of members of the Obama Administration–well the gang at Fox & Friends don't take days off–ever.
Last night on ABC's World News, DHS secretary Janet Napolitano tried to ease the fears of terror-weary Americans who've heard all about the heightened concern over a holiday attack. And she came so close to getting it right:

"What I say to the American people is that… thousands of people are working 24/7, 364 days a year to keep the American people safe."
Ubercool Diane Sawyer gracefully opted to move right along and not draw attention to the gaffe. But perhaps she knew F&F would cover her on that, and so they did Tuesday morning:
CARLSON: Oopsy daisy.

DOOCY: 364 days a year!

CARLSON: See, even with a leap year, that increases the day, right? I'm trying to come up with how you get to 364. I mean sometimes you might have 366, right, but not 364.

DOOCY: So the key is, what day, Madame Secretary, does the Department of Homeland Security take off?

KILMEADE: Spin the wheel. Let's hope it's not today and tomorrow, and they don't tell anybody. We'll find out.

CARLSON: Maybe it could be Christmas Day, because that's kind of what happened last year when that almost Christmas bomber was able to pull of a major stunt on an airplane.
Zing! Take that!
Watch it here, from Fox News:
Have a tip we should know? tips@mediaite.com