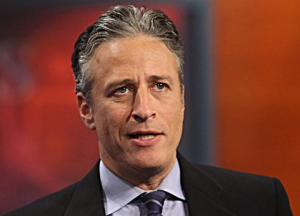 The true rise of the artist formerly known as Jon Stuart Leibowitz came not during his roommate role in Adam Sandler's Big Daddy or taking over for Craig Kilborn on The Daily Show in the late 90s. Instead it was a 2004 appearance on the soon-to-be-doomed CNN Crossfire with Paul Begala and Tucker Carlson.
Watch the clip (below) to witness one guest (a non-controversial comedian at the time, no less) single-handedly destroy a highly-successful cable program in the span of ten minutes. Stewart's unfiltered perspective, along his unique ability to capture that palpable feeling everybody is thinking but nobody actually talks about, completely disarmed the hosts (particularly Carlson). The show would be abruptly canceled within a year.
Stewart's mantra throughout the TKO was pithy and pointed:
"Stop, stop, stop, stop hurting America," he pleaded repeatedly, later adding: "You have a responsibility to the public discourse, and you fail miserably."
Stewart would proceed to label the Crossfire hosts as "political hacks," and equated both to professional wrestlers: "You're doing theatre when you should be doing debate."
The hosts never saw it coming.
Carlson: "You need to get a job at a journalism school…"
Stewart: "You need to go to one."
Game, set, match…
Over 5.3 million YouTube hits later, Stewart was elevated to a broadcast pantheon few in political media have ascended to in terms of respect, admiration and power. As a result, the daily routine for every cable network producer is to assign an associate producer or intern to watch Stewart's program to find the best clips to insert into a program. If you miss the Daily Show on any given night, no worries…best-of replays are seen all morning on cable news (the target that is Fox News notwithstanding).
Beloved by Democrats and feared by Republicans for his awesome influence on young voters, AskMen even named the 50-year-old the country's Most Influential Man of 2010.
In the end, when talking about dominance in political programing and the hosts who get it — who truly understand what audiences want and how to do a show right — the roster is made up of two people:
Jon Stewart.
Bill O'Reilly.
And that's it.
So that's why it is regrettable to declare that Mr. Stewart has dubiously earned receiving the same lecture given to Carlson and Begala nine years ago:
Stop, stop, stop, stop hurting America, Jon.
This plea comes after Stewart crossed over the line this week during a segment on President Obama and guns. In it, Stewart rightly called out the media for questioning whether the President fabricated a story around his recently revealed affection for skeet shooting.
The silly season continues for conspiracy theorists choosing to attack the president on this, as the White House has since released a photo of Obama as part-Terminator/part-Matrix-Laurence Fishburne (the protective shades are unquestionably badass) while doing the skeet thing out at Camp David.
The exercise once again proves certain media members need to be more selective in terms of where to burn their calories when criticizing this president…because when these kind of small-time charges are disproven, it only continues to diminish their already-struggling credibility.
But regardless of how things turned out here, it was a question Stewart asked on his show that only helps push a toxic racial narrative we're seeing way too often on cable news.
Stewart on Thursday's Daily Show: "Why won't the black man half the country lives in fear of release a picture of himself holding a gun?"
With statements like this, it is Stewart who is now hurting the country.
And before applying the same "I'm-just-a-comedian-don't-take-anything-I-say-seriously-defense" Stewart invariably resorts to when called out in situations like this, keep in mind that he lost that get-out-of-jail-free card when he decided to become as serious as a heart attack on Crossfire on the importance of responsible public discourse.
Here's my beef: By automatically believing half the country (OK, 47 percent) only voted against the president because he's black, because they fear him, it is an affront to the tens of millions who voted for the GOP candidate for reasons other than skin color.
Maybe, just maybe, it was a listless economy, high unemployment, spiraling debt, the creation of unaffordable entitlements, and a different philosophy on taxes that compelled voting for the other guy…at least that's what the exit polls showed.
And by the way, included in the final tally for the Republican ticket were 2.4 million votes by African Americans. So, are they afraid of one of their own…the black guy with the gun?
Remember when we heard that the only way Obama could lose would be because of closet racism and code words the Romney campaign was subtly imbedding in its talking points like "golf," "Chicago," and "lazy"? Well, it should be noted that the president received more white votes in 2012 than any Democratic candidate since FDR. And it's not like he had the tailwinds of a great, or good (or even average) economy at his back.
So much for all that rampant racism derailing the president's path to a second term…
But Stewart continues to push a racial narrative only thought to exist on a cable news network he rarely criticizes.
Of course, this is the same host who once did an awkward Amos 'n Andy imitation of Herman Cain. In this week's "could you imagine if?" segment, could you imagine if O'Reilly put on black face and did his best impression of Barack Obama?
Is Jon Stewart a racist?
Of course not…
But does he play the race card when it comes to painting all conservatives with the same brush?
Absolutely.
Apparently over 60 million people in this country fear President Obama as if he was a gun-toting African-American member of a Chicago gang.
At least that's the implication.
Please Jon…
Stop, stop, stop, stop hurting the country.
— —
>> Follow Joe Concha (@ConchSports) on Twitter
Have a tip we should know? tips@mediaite.com