Open Mic Catches Reporters Coordinating Questions Ahead Of Romney Press Conference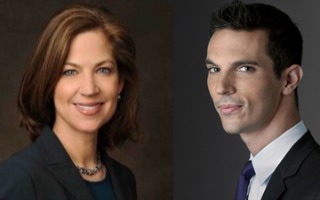 During Mitt Romney's press conference on Wednesday morning in which he condemned the response to attacks on U.S. embassies in North Africa by members of President Barack Obama's administration, reporters were caught on tape coordinating their line of questioning.
The reporters caught on tape were identified by NewsBusters as CBS' Jan Crawford and NPR's Ari Shapiro. The audio of the exchange is available on The Right Scoop.com.

RELATED: Romney Condemns Obama Administration's Reaction To Libya Attacks, Defends Tone Of His Response
Crawford: Yeah that's the question. I would just say do you regret your question.
Shapiro: Your question? Your statement?
Crawford: I mean your statement. Not even the tone, because then he can go off on…
Shapiro: And then if he does, if we can just follow up and say 'but this morning your answer is continuing to sound…' – *becomes unintelligble*
Crawford: You can't say that..
**Later**
Crawford: I'm just trying to make sure that we're just talking about, no matter who he calls on we're covered on the one question.
Shapiro: Do you stand by your statement or regret your statement?
It is not uncommon for reporters to coordinate their line of questioning ahead of a press conference where there will be limited time and only a handful of reporters selected to ask questions.
However, some conservatives have expressed irritation that the reporters' coordination focused on the tone and timing of Romney's statement rather than the policy proscriptions he would advance in order to preempt future attacks similar to Tuesday's assault on the American consulate in Benghazi.
h/t The Right Scoop
> >Follow Noah Rothman (@Noah_C_Rothman) on Twitter
Have a tip we should know? tips@mediaite.com