Opening Night Reviews For Piers Morgan: "Often Obsequious" And "Surprisingly Soft"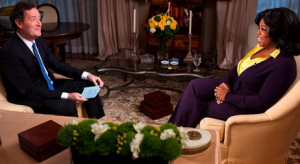 With so much hype leading up to last night's debut of Piers Morgan Tonight, it was almost inevitable the first show would prove–to some–a bit of a letdown. And sure enough, critics are finding plenty to talk about. In The New York Times, Alessandra Stanley argues the show's promos–particularly the way the opening-night interview of Oprah Winfrey was sold–didn't quite deliver.

Stanley writes: "Splashy promos on CNN promised 'Piers Morgan Unplugged; He Makes People Cry.' But the big bad British talk show host didn't get a sniffle out of Oprah Winfrey on Monday's debut of Piers Morgan Tonight. Instead, he showed a clip of Barbara Walters making Ms. Winfrey cry." Zing! Stanley calls the first night a "downer" and predicts Morgan's got "nowhere to go but up."
In the New York Daily News, David Hinckley also found fault with the gap between promo and reality–a nice interview, but hardly "dangerous:"
The chat was cordial, and Oprah tossed some high compliments back at Morgan.

Let's assume, however, that Morgan's goal for the new show lies higher than forming mutual admiration societies, because to be blunt, they hardly ever move the Richter scale.
Back home in the UK, the Guardian wrapped up some of Morgan's least impressive reviews in the U.S. papers:
The Boston Globe said he was "surprisingly soft". Its TV critic, Matthew Gilbert, found little evidence that Piers Morgan Tonight would be anything other than another "blah-blah-blah talkshow".

He said the new host was by turns "charming, vain, well-informed and fawning – but mostly just fawning".

Mark Dawidziak, for the Cleveland Plain Dealer newspaper, said the chat was "subdued, cosy and cautious". He conceded that Morgan was "good", but said he was "hardly great".

Morgan was "often obsequious", according to Eric Deggans in the St Petersburg Times
But others raved, notably the man who hired Morgan in the first place. On Twitter, former CNN chief Jon Klein tweeted:
Watching @PiersMorgan exceed the expectations I had when we hired him. Congrats to him and @jonathanwald on a brilliant launch.
UPDATE: And, there's more. New York Magazine's Daily Intel blog has filed its first take on PMT, and it's in the disappointed column:
After weeks of building buzz, on Monday night it was finally time for Piers Morgan Tonight to fill television's biggest suspenders in the nine o'clock CNN slot that Larry King made famous. Morgan's interviews will clearly be more personal and pointed. He came across as polite and intelligent, and clearly does his homework. But his choice of Oprah Winfrey as his first guest was a drastic error. From the hotel room interview set — more Barbara Walters Fascinating People than anything resembling King's familiar dark-room-and-desk setup — to his obsequious bowing and scraping, the interview with the reigning queen of TV made him look like a commoner.
Obsequious again. Over at Deadline, Nellie Andreeva also found fault with Morgan's Oprah-worshipping:
After months of hyping his provocative style, Morgan came across as a capable interviewer but spent the hour worshiping at the church of Oprah, calling her queen/American royalty, the most powerful woman in America, world's most famous interviewer, etc and throwing mostly softball questions at her.
Perhaps most damning was The Wrap's Dylan Stableford, who suggested that Larry King was a tougher interviewer than Piers Morgan:
And for all his talent — and hype as a master interviewer across the pond — Morgan managed to toss more softballs at Oprah Winfrey in an hour than even his time-slot predecessor might have.
Have a tip we should know? tips@mediaite.com