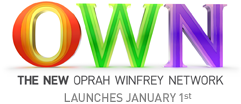 The New York Times devoted a lengthy Sunday feature today to the upcoming January 1 launch of Oprah Winfrey's new cable TV network, the Oprah Winfrey Network (OWN). Winfrey is the first ever talk show host to go on to launch her own network, and thus is attracting plenty of skepticism from critics about whether the network can be as successful as her long-running ABC talk show.

Brian Stelter reports:
Ms. Winfrey's move from broadcast to cable is a transformative moment for the television business, marking the first time a talk-show host has taken over an entire channel. The stakes couldn't be higher for Ms. Winfrey and the coterie of television veterans that has assembled around her. For someone who has enjoyed outsize victories in almost every venture she has pursued, OWN will be the ultimate test of her power.

"I'm prepared for all the critics, I'm prepared for all the naysayers and the ya-da-ya's," Ms. Winfrey says by telephone from Sydney. "The real truth is this: Everything I've ever done has prepared me for this moment, for this launch."

"I look at this launch as the birthing of a baby, not the raising of a child," she continues, managing expectations about the sure-to-be-low-rated early days of OWN. Child-rearing will mostly have to wait until after she tapes her final episode of "The Oprah Winfrey Show" in May.

"It's a long-term process," she says, "and I have the vision to see what this network can be in 3 years, in 5 years, in 10 years, as an institution of hope and inspiration."

At its core, OWN will try to embody Ms. Winfrey's "live your best life" philosophy, and it will aim at the same audience as her current show — women from the ages of 25 to 54, says Christina Norman, the channel's chief executive.

But OWN's three-year gestation has been unusually arduous. Early on, Ms. Winfrey's partner in the joint venture, Discovery Communications, grew frustrated, and as boardroom tensions boiled over early last year she considered backing out altogether. The relationship has improved markedly since then. But as recently as late November, some producers working with OWN still doubted that the channel would actually come to life in January.

Now, without a doubt, it's coming. But it brings clear risks for Ms. Winfrey. She is swapping her broadcast stage — where nearly seven million fans watch her every day — for a cable platform that will be, at least at first, much smaller. For a time, she says, she lived in fear about the channel, even though she had fostered the idea for OWN for the better part of 20 years. And questions linger among some observers — like OWN's future competitors at Bravo, Lifetime, WE tv and elsewhere — about her level of commitment to the channel.

Ms. Winfrey says she's worried only about how well OWN is doing in "letting people know where the channel is." (This month, Oprah.com features an OWN countdown clock and a channel-finder tool.)
Read the full story here.
Have a tip we should know? tips@mediaite.com