Oprah: You Can't Be an Atheist If You 'Believe in the Awe and Wonder' of the World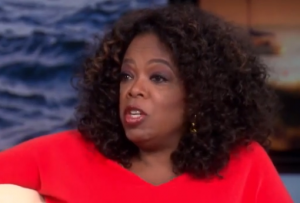 Diana Nyad is a truly remarkable woman. She made four unsuccessful attempts to swim from Cuba to Florida, but persevered and actually accomplished her goal on the fifth try. Now Nyad just happens to be an atheist, and said so to Oprah Winfrey in an interview that aired on Sunday. And Nyad was very open and honest about her worldview and how she's able to appreciate the awe and the majesty of the earth despite her atheism.

But as far as Oprah is concerned, the mere fact that Nyad sees such wonder in the world is proof that she is not, in fact, an atheist.
Oprah is, without question, one of the most famous and influential people on the planet, and when she talks, people listen. Newsweek had a huge cover story in 2009 chronicling her influence on the alternative medicine racket. So that's why this exchange was particularly troublesome.
DIANA NYAD: I can stand at the beach's edge with the most devout Christian, Jew, Buddhist, go on down the line, and weep with the beauty of this universe and be moved by all of humanity, all the billions of people who lived before us, who have loved and hurt and suffered. To me, my definition of God is humanity and is the love of humanity.

OPRAH: Well, I don't call you an atheist then. I think if you believe in the awe and the wonder and the mystery, then that is what God is.
This is not the first time Oprah has gone down this road, so to speak. When she was in Denmark, she admitted she was "puzzled' at how one of the happiest countries in the world could be the least religious. One of the women Oprah spoke to actually said the same thing that Nyad did, that she believes in humanity. Oprah seemed positively stunned by this, even suggesting she may be religious but just doesn't know it.
Oprah doesn't hate atheists or harbor an anti-atheist bias or anything like that; it's just hard for many religious people to wrap their heads around the idea that there are people who live happy lives without religious morality guiding it or the belief in a being watching over them 24/7.
Being awed at the world is not at all a religious notion. There is plenty of beauty to be found in the natural world, you don't need to believe there was a creator to be able to appreciate that. And when Oprah says this awe is what God is to her, that's perfectly fine, but she can't use her own belief system to tell someone that they are not who they say they are.
And by the way, for anyone who thinks all atheists are just a bunch of nasty trolls looking to mock and deride religious people any chance they get, watch this interview, because there are a lot of atheists out there like Diana Nyad, who are perfectly content with unbelief and don't begrudge others who believe in a supreme being.
Watch the video below, via OWN:
[h/t Raw Story]
[photo via screengrab]
— —
Follow Josh Feldman on Twitter: @feldmaniac
Have a tip we should know? tips@mediaite.com
Josh Feldman - Senior Editor