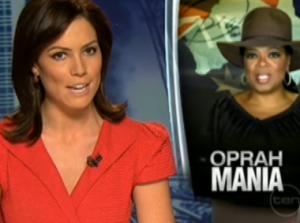 "Our wildlife embarrassed us," said an Australian reporter who told Aussie viewers that within minutes of arriving Down Under, Oprah Winfrey was interrupted by a pair of cuddly koalas getting up close and personal at a nature preserve. Or, as the reporter put it, the koalas were doing "what most of us reserve for private times."
"I have been here one hour and I've seen two koalas mating already," said Oprah, who's brough a full landing party of more than 300 audience members and a massive crew who will stage episodes of Oprah in Sydney.
Audience members arrived for their "Ultimate Australian Adventure" to a huge crush of reporters Monday, but the media horde went away disappointed with no sign of the Queen of Talk herself. One television network even urged its viewers to keep their eyes open and report any "sightings" of Oprah.

Winfrey made her first appearance Wednesday at the luxury resort at Hamilton Island in the fittingly-named state of Queensland, giving one lucky reporter an exclusive one-on-one, and describing a few of her favorite Aussies:
"Hugh Jackman. I like him a lot. Baz Luhrmann! Like him a lot. Nicole Kidman, Russell Crowe, like them a lot. The little Irwin girl, liked her a lot. But it's the regular folks, you know, getting to know just regular people. Like them a lot. So it's going to be exciting for us."
The trip has gotten over-the-top coverage in Australia, with the Hollywood Reporter noting that it's been compared to Queen Elizabeth II's first visit over four decades ago.
Despite critics knocking the Australian government for pitching in to host the trip, the government Down Under says the trip–and the Australia-based shows that will be seen around the world–will be a boon to tourism:
Even before the travelers' arrival, the Adventure has already raked in $17 million worth of coverage for Australia, according to Tourism Australia chief Andrew McEvoy.

He told the National Press Club last week that the Winfrey audience is a key target for the organization.

"Winfrey and her team will make at least four hours of dream come true television about Australia in this, her 25th and final season. Importantly, the program rates highest with above average income women aged 25-54. In our industry, they are the holiday decision makers," he said.
If you enjoy the Aussie accent–and who doesn't–you've got to watch the report on Oprah's arrival, which includes–I kid you not–Oprah saying "the dingo ate my baby" and the Aussie reporter saying "they're throwing shrimp on the barbie."
Watch here, from Australia's Ten Network:
Have a tip we should know? tips@mediaite.com