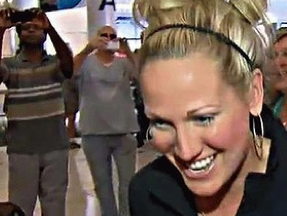 300 giddy members of Oprah's audience have landed in Australia ready for a whirlwind "Ultimate Australian Adventure"–and already, some Down Under are asking (begin Aussie accent now) "Crikey! Why are we picking up the tab for this?"
As the Americans were mobbed at the airport in Sydney by camera crews disappointed to learn Oprah herself wouldn't arrive until Tuesday, a newspaper headline screamed "Why Are We Paying For Rich People?"
The visit's been billed as a boon to Australia's tourism as the talk show star does a series of shows from the country and sends her audience on a tour of the Great Barrier Reef, the Tasmanian Wilderness and the country's beaches. But some wonder if it's worth the cost. Here's a columnist in the Sydney Morning Herald:
Last I heard, Oprah Winfrey was earning around $220 million a year although one report puts that at $300 million. There is even a website where you can watch her income ticking over. The counter spins like a roulette wheel. This talk-show baby is seriously rich even by oil-soaked American zillionaire standards.

She arrives in Australia this week so explain again to me why Aussie taxpayers are chipping in towards her bills.
But forget about all that. Some Americans–including a woman who told reporters at the airport in Sydney she'd "never even won a goldfish" before–have landed a pretty sweet vacation. (And in case you were wondering if U.S. reporters ask the most inane questions on Earth, be assured it's a global problem. One reporter asks a guy getting off the Oprah flight, "have you seen a kangaroo before?" Sigh.) Watch it, from the Herald:
Have a tip we should know? tips@mediaite.com