Oral Roberts' Grandson On Coming Out: 'I Hope Someday We Can All Get Over That Fear Of Homosexuality'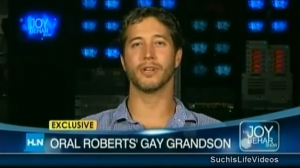 Randy Roberts Potts appeared on HLN last night to talk about coming out as a gay man, being a grandson of the late evangelist Oral Roberts.
Potts told guest host Don Lemon that ever since coming out, he has received many e-mails from people supporting him and asking questions about his personal struggles. He said he had an idea of his homosexuality at an early age, recounting an anecdote where he was watching The Dukes of Hazzard and looking at Bo & Luke while his friends were looking at Daisy.
Of course, being part of such an evangelical family presents its problems for Potts. His grandfather knew in the last few years of his life, and he still keeps in touch with his family, but according to Potts, their conversations are somewhat less than pleasant.
"They don't accept it. They strongly believe that I'm going to hell for being openly gay, and I strongly believe I'm not, so it's hard to find a middle ground between us."
Ronnie Roberts, Potts' uncle, committed suicide in 1982 several months after coming out. Potts explained he was inspired to not go on the same path as his uncle, and "saw that as an example I didn't want to follow."
Potts was married to a woman, a longtime friend of his, for a number of years, and they had three children together before splitting up. He describes it as a "full, very emotional relationship."
Lemon asked Potts if he thinks gay people can still feel welcome in the Christian community, and Potts, despite not being religiously affiliated himself, believed this could be possible.
"There are a lot of gay youths who want to stay Christian or follow the faith of their family, and want to know if they can. And I think there is room in every religion for gay people, and there are starting to be gay-affirming churches around the country."
Watch the interview below, courtesy of HLN:
Have a tip we should know? tips@mediaite.com
Josh Feldman - Senior Editor