Orange Is the New Black Actress Bursts into Tears Discussing Her Deported Parents on CNN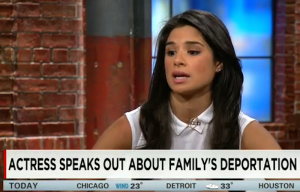 Orange Is The New Black actress Diane Guerrero broke into tears this morning as she recounted, in excruciating detail, how she'd discovered that her parents were deported when she was 14: she came home one day from school to discover that they'd been taken.
"I went to a performance arts high school. So around that time we were planning spring fest, which was like, you know, everyone was getting their parts and their singing roles," she told CNN's Michaela Pereira. "And I got home and their cars were there and dinner was started and the lights were on, but I couldn't find them."
Guerrero, now 28, added that though she was a US citizen, no one from the government reached out to her to ensure she was all right, forcing her to depend on the kindness of strangers to get through high school and college. Her family now lives in Colombia, and she visits once a year.
"It's tough, it's like we've been separated for so long, I feel like sometimes we don't know each other," Guerrero said, bursting into tears. "That's difficult because I've grown up without them and there's things about them that are new that I don't recognize and it just — it hurts. But I love them so much and I just — I just hate that they have gone through this. And I know I've been by myself, but I feel like they've have lived a very lonely existence themselves."
"But I love them so much," she added. "And I just hate that they have gone through this. And I know I've been by myself, but I feel like they have lived a very lonely existence."
Watch below via CNN:

[h/t RawStory]
[Image via screenshot]
—
>> Follow Tina Nguyen (@Tina_Nguyen) on Twitter
Have a tip we should know? tips@mediaite.com