Oregon Gov. Exits Interview After Denying Prior Knowledge of Healthcare Site Failure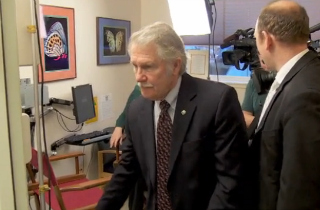 Oregon Gov. John Kitzhaber (D) hastily exited a Thursday morning interview with KATU after he was asked about problems with Cover Oregon, the state's health insurance marketplace set up under Obamacare.
The exchange's website has been subject to a costly and "disastrous" launch, including botched enrollments, missed deadlines, and repeated errors. KATU reporter Hillary Lake confronted the governor about that and questions over his prior knowledge of problems with Carolyn Lawson, the recently-resigned CIO responsible for the website's technical development
"We figured that this would be a two-year process," Kitzhaber said on the website's failures. "What we didn't anticipate was actually this many [people enrolling]."
But when Lake asked about Lawson, who resigned in late November due to "personal problems," things became a bit tough. The governor claimed he was unaware of problems with Lawson until shortly before her resignation, but Lake pushed back with evidence that 10 months earlier, Kitzhaber received an email from State Rep. Patrick Sheehan warning of issues related to the CIO.
Kitzhaber denied ever seeing such an email, despite his legislative director having responded to it that he will "get this into the right hands, in addition to the Governor." The governor responded that the allegations never made it to him.
After that, his press aid cut the interview short, limiting Lake to one more question.
According to KATU, the governor's spokesman said the interview was cut short not because of the tough grilling, but because of the governor's limited schedule.
Watch below, via KATU-TV:
— —
>> Follow Andrew Kirell (@AndrewKirell) on Twitter
Have a tip we should know? tips@mediaite.com