Oregon Man With Last Name Of Trump Getting Tormented Over 'Trump' Vanity Plates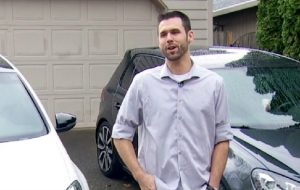 A man who has had vanity license plates for the past nine years featuring his last name is suddenly dealing with a whole lotta harassment over them. Why? Because he happens to have the same last name as the Republican presidential nominee.
In a report by KATU in Oregon, Brian Trump discussed how over the past year and a half he's been receiving more and more negative attention over his 'TRUMP' plates. Brian, who lives in the suburbs of Portland, detailed how while he has gotten a couple of thumbs up, mostly he's heard vulgar language and been flipped off on the road.
For the most part, he's brushed off the anger he's received with a good sense of humor. However, his good nature has reached its limits when his wife, who also has vanity plates featuring her last name, was recently tormented by three men who thought it meant she was a Donald Trump supporter.
"So you got three grown men yelling at a woman alone in her car," Trump said. "It's kinda scary. You don't want something to happen."
Brian Trump said that he will not take the plates off, though. Instead, he is going to put a sticker on his back window that says Trump is his last name and that he has better hair.
He didn't answer whether he was voting for Donald Trump this election, but said it shouldn't matter if he is or not.
"Even if I was a die-hard Trump supporter, why should there be potential threats of violence or vulgar language," he explained.
Watch the video above, via KATU.
[image via screengrab]
–
Follow Justin Baragona on Twitter: @justinbaragona
Have a tip we should know? tips@mediaite.com