Oregon Sheriff Asks a Divided Nation to Come Together: 'We Can't Go On Hating Each Other'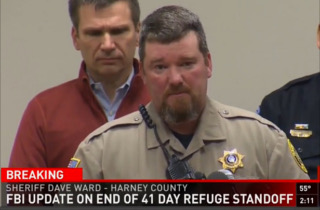 Sheriff David Ward fought back tears as he implored both locals and Americans as a whole, to take this opportunity to unite and heal.
Over the course of the 41 days that a self-proclaimed militia lay siege to a federal wildlife refuge, Harney County, Oregon was thrown under a national spotlight, and made the crux of a bitter debate that grew to include controversies over the federal use of Western lands, the distinction between civil disobedience and domestic terror, and what many saw as law enforcement's unequal treatment of white trespassers, who claimed to be protesters.
Speaking to reporters Thursday afternoon hours after the occupation of the Malheur Wildlife Refuge came to an end, Ward, the Sheriff of Harney County, made an quiet, but impassioned, appeal for the country to set aside the rancor, build bridges, and come together to work through its differences.
Ward said that he was proud of his community for enduring the tumult of the past six weeks, but also disheartened by the rifts recent events had created within families and church congregations, and amongst friends and neighbors. He suggested that the state of division and hostility he witnessed in his back yard was reflected in the country at large.
"I'm proud of this community, I'm proud of my friends and neighbors," he began. "I'm proud of the way that you stood up to this stuff. I love this country and a house divided against itself cannot stand."
"There's good that can come out of this," he said. "Friends and neighbors can get off social media and sit down over a cup of coffee and talk out their differences." He continued:
We can work through these things. There's been a lot of hurt, there's been a lot of things said, but I don't think there's anything that's been done that can't be worked through. And if we can't work through the differences we found in our little community, right here, how can we expect the rest of the nation to work through the division that we face?
Ward said that the government was made of "human beings," who were "imperfect," and asked that both disaffected citizens and their government leaders communicate better with each other to resolve their differences. "I've seen people angry that couldn't explain what they were even angry about, and it's torn our community apart. I see it tearing our country apart," he said.
He concluded:
We can't continue to go on tearing each other apart, hating each other, because of differences of opinion. We can't go on like that. There's a reason that people risk their lives to come to our country every day, from around the world. And that's because it's a fine place to live. So if I could encourage my friends and neighbors to get off of Facebook, and talk to each other in person — if I could encourage them to, if they have a complaint with a civil servant, to sit down and write a well thought out letter void of profanity and insults, I think that we could get a lot farther. And if you're so persuaded, turn off the computer and get on your knees and pray for your leadership. Because there's no way we're going to fix this country if we're all mad at each other, and fighting over everything. So, God bless you all, and thank you.
As he walked off the stage, reporters and officials in the room applauded.
Video via KGW in Portland, Oregon.
[image via screengrab]
Have a tip we should know? tips@mediaite.com