Bill O'Reilly, ABC's Brian Ross Trade Candidate Security Manhandling Stories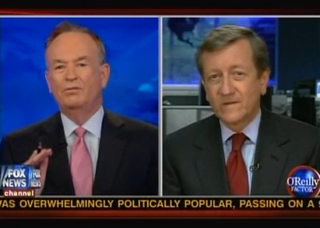 The headaches coming out of the Daily Caller Rep. Michele Bachmann profile on her migraines seem not to be limited to those the Congresswoman naturally experiences. ABC News reporter Brian Ross had one of his own while trying to ask her about the topic, with Rep. Bachmann's security team pushing him away. Ross relayed the experience to Bill O'Reilly, who recalled a similar incident with the Sen. Obama team, but actually didn't have too many foul words for the team.
O'Reilly played a clip of Ross describing his experience on The View— he attempted to ask Rep. Bachmann whether she had missed any votes due to her migraine problem and her security team got in the way rather roughly. While O'Reilly noted that he didn't quite understand why the headache issue was so alluring to the press– "headaches are a very common thing," he noted– he still related to Ross' experience, as he had seen the same.
O'Reilly then played footage from January 2008, when the security team of then-Senator Obama seemed to rough up the Factor host at a rally as he struggled to identify himself, shouting at security that they were "really low class, pal," until Sen. Obama himself came over and shook O'Reilly's hand. While it is a very entertaining clip in retrospect, tensions were clearly high, though O'Reilly clarified that he and those in the video had made amends and were on good terms after the incident. "Security has to be mature enough to know who is the enemy," O'Reilly concluded.
O'Reilly then turned to Ross to ask him to retell parts of the story and explain why the question was a valid one to him. "They're more than headaches, Bill," he noted, "they're migraines." He added that he wanted to know whether she had missed votes because "as Commander in Chief, she really has to be available on a 24-hour basis." O'Reilly didn't fully agree, but did feel the question was valid. He then asked how Ross reacted, adding, "I reacted like an imbecile, but that's just me. Ross replied that he understood that "the people around [politicians] are doing their best to protect them from… annoying reporters" and merely tried to get closer. Both agreed that their job was to do so, but, O'Reilly concluded, Rep. Bachmann's security had protected her in a "stupid" way.
The segment via Fox News below:

Have a tip we should know? tips@mediaite.com