O'Reilly And Hume Laud Idea Of American Exceptionalism In Obama Libya Speech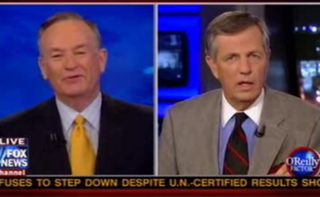 President Obama's speech explaining America's objectives in Libya strayed far from the partisan and, judging by the immediate response on the O'Reilly Factor, it may have won him some points on the right. Bill O'Reilly and Brit Hume assumed the task of giving the first reaction to his comments on Fox News, and while they were both somewhat disappointed in the lack of urgency, there was a mutual appreciation for his "emphasis on effectiveness" and American exceptionalism.
For O'Reilly, the most important meta-issue in the balance during the speech was the state of American exceptionalism in light of her third war in a decade. Having questioned that the President had, to a certain extent, permitted France to make the first move in the war rather than the pattern that emerged during the Bush administration of America acting preemptively, O'Reilly reiterated during his Talking Points Memo that "Gaddafi is a monster" and, as Americans, "we do not turn a blind eye to atrocities." That said, he later told Hume that, while he believed Obama should have "just joined forces in the beginning" with French President Nicolas Sarkozy, his caution in approaching a new battle front was appreciated.
Hume, on his part, beleived the President "did about as good a job as he could do" on the speech, and praised the fact that Obama was "eager to tout an American leadership role in this and… in general." He objected, however, to what he described as "the idea that the American image has been so stained [by the Iraq War conflict] that the less visible the United States' presence is, the better. I don't agree with that." On this point, O'Reilly jumped to the President's defense, noting that "poll after poll in country after country" showed that the Iraq War effort made America thoroughly unpopular, and while "it turned out to the benefit of the Iraqi people and the world… the image that people have is that we are bigfoot and we took over, and that's what Obama wanted to avoid here."
The segment via Fox News below:

Have a tip we should know? tips@mediaite.com