O'Reilly and Colbert Both Launched Their Respective Wars on Christmas Last Night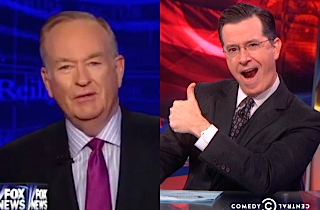 Is it a coincidence that both Bill O'Reilly and the man who has spent the last nine years mocking him night after night on national television both launched their respective wars on Christmas last night?
First, O'Reilly kicked off his segment by calling out the "War on Christmas-deniers" who accuse him of making up a non-existent crusade against America's most popular December holiday. He pointed to a billboard urging people to "skip church" this Christmas as the first example of the atheist plan to "diminish" the celebration.
He invited "agnostic" psychotherapist Karen Ruskin to explain to him why anyone would want to hurt Christmas in this way. In her opinion, atheists in the minority are trying to push their message to the masses in order to "validate" their own views. She agreed with O'Reilly that these efforts are "horrifically insulting" and "really disrespectful" to Christians.
Watch video below, via Fox News:
Then, in a segment that aired a few hours later, but taped a few hours earlier, Stephen Colbert launched his own "Blitzkrieg on Grinchitude" with a story about Christmas "fighting back." Specifically, he looked at a new initiative from TGI Fridays that will fly mistletoe drones around its restaurants that forces people to kiss each other in public.
The host suggested that the Pentagon start thinking about deploying these drones to Iraq and Syria to combat ISIS. "Once the terrorists see that festive sprig hovering overhead, al-Baghdadi and his top lieutenant will have to kiss each other," he said. "And then, they will immediately be stoned to death."
Watch video below, via Comedy Central:
[Photo via screengrab]
— —
>> Follow Matt Wilstein (@TheMattWilstein) on Twitter
Have a tip we should know? [email protected]
---