O'Reilly and Geraldo Take on Chris Lane Murder: 'I Don't Think This is a Racial Crime'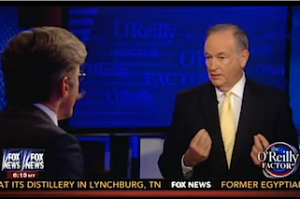 Bill O'Reilly brought Geraldo Rivera on The O'Reilly Factor Thursday night to help him examine what caused three Oklahoma teens to allegedly murder Australian Chris Lane. "The collapse of the family is leading to horror all over this country," O'Reilly said. "Each one of these kids have dysfunctional families, it's a chaotic situation, and they act out by killing this poor 22-year-old guy."
Rivera agreed that "the dysfunctional family, or nonexistent or absentee parent" is the "heart" of the problem here. But he added it would be hard to prove that there was any "racial motivation" for the shooting.
"I don't even think it's important," O'Reilly said of the race issue. "I don't think this is a racial crime. I think this is a crime of three teenagers simply out of control." He said the "de-emphasis of the traditional family" spans "all colors, white, black, whatever." Looking at the 17-year-old white suspect, Michael Jones, O'Reilly said "this cuts across race."
"We have a subculture in this country," O'Reilly continued, "and all colors are involved, children, alright, from terrible families, derelict parents, who don't care anymore. They're not going to be able to work. They're not going to be able to be in the American marketplace. They don't care. They're covered with tattoos. They're taking drugs. They're playing video games all day long. And no one in the media is calling it what it is."
He concluded by calling politicians in this country, including President Obama, "too cowardly" to deal with the real problem.
Watch video below, via Fox News:
[photo via screengrab]
—
>> Follow Matt Wilstein (@TheMattWilstein) on Twitter
Have a tip we should know? tips@mediaite.com