O'Reilly And Beck Take On 'Jesus' Stomp Controversy: University Only Sorry Because 'Spotlight Was On Them'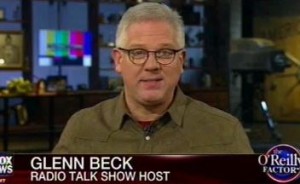 Bill O'Reilly was fired up tonight over a Florida college student getting suspended after refusing to stomp on the word "Jesus" in one of his classes. O'Reilly said this was blatantly "attacking Christianity," and brought on Glenn Beck to discuss the university's mea culpa. Beck said that Florida Atlantic University is only apologizing because "the spotlight was on them," and they don't actually intend to do anything serious about the situation or discipline the professor involved.
RELATED: UPDATE II: College Student Reportedly Suspended After Refusing to Step on 'Jesus'
Beck first took on a controversial video distributed in Texas teaching children how U.S. policy cause the 9/11 attacks. Beck was shocked that the video came from Texas and that this video has been shown for over ten years. He slammed the video as clear indoctrination, which he said is running rampant throughout the educational system. O'Reilly said this is most evident at the college level, which brought them to the Florida case.
Beck mocked the university for being "super-sorry" for what the Florida professor forced his students to do without actually taking any action against him. O'Reilly said it's a liberal university, so they're not going to actually fire him. Beck cast doubts on the university's apology, wondering what they're going to do once the heat is off. He asked, "What are they doing when the spotlight is not on them?"
And the spotlight may stay on them for a while, because tonight Governor Rick Scott is calling for an official investigation [PDF] into the incident.
Watch the video below, courtesy of Fox News:
—–
Follow Josh Feldman on Twitter: @feldmaniac
Have a tip we should know? tips@mediaite.com
Josh Feldman - Senior Editor