O'Reilly And Guest: Are Network Morning Shows Helping Obama Influence Voters?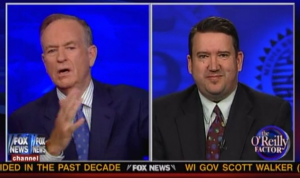 On Monday night, Bill O'Reilly took a look at the major morning shows that air on ABC, CBS and NBC. He took a look at how these shows influence voters, noting that he himself has had a good relationship with them. By contrast, Tim Graham, of Newsbusters, said the shows are blatant in their bias, clearly favoring President Obama.
O'Reilly began by noting that he's been treated well during his appearances said morning shows, and doesn't have a huge bone to pick. Graham disagreed, cutting right to chase about the "dramatic bias in terms of favoring Obama." While a Republican candidate can "expect to be attacked," he said, the president and Michelle Obama have interviews that aren't substantive.
Isn't it good for morning TV to confront politician? O'Reilly said it's good TV. But Obama's coverage has been "celebratory," Graham argued, while Republicans never got such treatment in the 2008 or 2012 cycles. The Obamas get "puffball interviews."
Asked whether he thinks the network management overtly tells their talent to go light on the president and heavy on the GOP, Graham said, "I'm not sure" — but went on to say that they don't have to. He asked, does George Stephanopoulos really have to be told? Gayle King was another example, because there's "no degree of separation" between her and the Obamas.
Of the networks, CBS is the fairest, he said, particularly Jan Crawford, who's "one of the better reporters" — one who should be emulated.
Take a look, via Fox News:

Have a tip we should know? tips@mediaite.com