O'Reilly And Guest Target Tarantino And Django Unchained In Segment On Violent Culture
O'Reilly And Guest Target Tarantino And
Django Unchained
For Violent Culture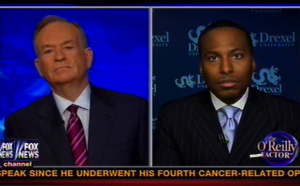 Bill O'Reilly continued the media's examination of our violent culture on his show tonight, but instead of focusing on video games, as many pundits have in the past few days, he and his guest talked about violent culture in the movies, especially in the films of Quentin Tarantino. Dr. Chuck Williams told O'Reilly that while a lot of movies do depict violence, Tarantino's films, including the upcoming Django Unchained, feature more "gratuitous violence" and do not depict "real life" violence as realistically as other movies do.
RELATED: Expert On MSNBC Demolishes Mythical Link Between Violence And Video Games, Movies
O'Reilly explained that he tried to invite Tarantino or Django star Jamie Foxx on the show to talk about the violence in the movie, but they declined. However, the two men have been making the media rounds defending the film's violence. Williams admitted he is a big fan of Tarantino, but in the wake of last week's school shooting in Connecticut, he argued everyone has to think about their part in contributing to the country's culture of violence, and said Tarantino "can't back down" from his role.
O'Reilly asked Williams about studies he's conducted about people being influenced to commit violent acts based on what they see in the movies. Williams cited a study from the 60s showing a "correlation,' but not a direct causality between watching violence in the movies and committing it in real life. He pointed out that most mass shootings are also suicides wherein the shooters accept they are going to die as well, aiming to go out in a "blaze of glory," which has been glamorized in a number of films.
O'Reilly brought up cultural works that were controversial when they came out, with A Clockwork Orange as a prime example of this, but now that movie is considered "tame." Williams said that many films in past
Watch the video below, courtesy of Fox News:
—–
Follow Josh Feldman on Twitter: @feldmaniac
Have a tip we should know? tips@mediaite.com
Josh Feldman - Senior Editor