O'Reilly And Karl Rove Agree: GOP In Disarray, Would Lose 2016 Election If It Were Held Today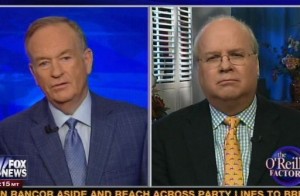 This week marks Karl Rove's return to Fox News following a brief hiatus after the election. Tonight he sat down with Bill O'Reilly to assess the problems of the modern Republican party, why it came out losing the 2012 presidential election, and how prepared it is for 2016. O'Reilly highlighted a soundbite of Newt Gingrich saying that the Republican party is not prepared for the next presidential election, particularly if Hillary Clinton is the Democratic nominee.
RELATED: Fox News Keeping Karl Rove And Dick Morris Off Air, According To Report
Rove said he agrees with Gingrich on the idea that Clinton would be a challenge to the GOP, but challenged the notion she would be boosted by the support of President Obama. O'Reilly agreed with Gingrich's overall point that the GOP is "pretty much in disarray and they can't compete with the organized Democratic machine." Rove said the Republicans would not win the 2016 election if it were held today, but we still have a ways to go before that.
O'Reilly then brought up a Fox News poll showing a majority of Americans believe spending cuts are the best way for the Obama administration and Congress to deal with the budget crisis. Rove reconciled that number with Obama's victory by saying the president did a good job pitting the public against Mitt Romney during the race. O'Reilly cited another poll on the budget and said it seems Obama is going against public opinion time after time.
Rove said the 2012 election was particularly striking because there were less voters than in the 2008 election, closing the segment by pointing out that Hillary Clinton has effectively ruled herself out for the 2016 race.
Watch the video below, courtesy of Fox News:
—–
Follow Josh Feldman on Twitter: @feldmaniac
Have a tip we should know? tips@mediaite.com
Josh Feldman - Senior Editor