O'Reilly And Kirsten Powers Bash Dems For Defending Obama, Clinton In Benghazi Hearings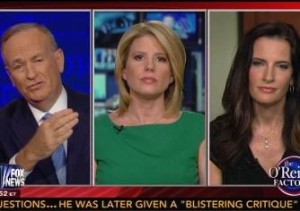 Bill O'Reilly tonight took on the Benghazi hearings in Congress today and, in particular, how much Democrats on the House committee were going out of their way to defend Hillary Clinton and President Obama. Kirsten Powers and Kate Obenshain piled on the Democrats for aiding in a potential cover-up, though Powers was a little more hesitant about calling it a cover-up, suggeting that it could have been simple incompetence instead.
RELATED: Dems And GOP Reps Battle In Benghazi Hearing Over Whether Dems Were Blocked From Witnesses
O'Reilly ran video of Democrat Elijah Cummings questioning the motives of Republicans using witness testimony for political purposes. Powers found the Democrat disinterest in getting to the bottom of the case "astounding," saying that even if witness testimony was molded for partisan purposes, the witnesses themselves are not partisans, and the Democrats should fairly hear them out.
O'Reilly showed another soundbite of Carolyn Maloney going after Republicans for attacking Americans, the military, and Hillary Clinton. Obenshain claimed that both Clinton and Obama "engaged in an extended political cover-up," and found it "stunning" that Democrats are just trying to wash away any possible wrongdoing on the part of the Obama administration.
Powers said it's hard to prove if there was a cover-up or just simple incompetence, but O'Reilly interjected to point out one of the witnesses said Clinton never asked him what the cause of the attack was during a late-night call. Powers noted that he also said no one on the ground thought it was anything but terrorism, adding that the charge of a cover-up might have just been a simple miscommunication of intelligence.
Obenshain declared it to be an unequivocal cover-up because "what happened in Libya went against the narrative" the administration was trying to promote in the Muslim world.
Watch the video below, courtesy of Fox News:
—–
Follow Josh Feldman on Twitter: @feldmaniac
Have a tip we should know? tips@mediaite.com
Josh Feldman - Senior Editor