O'Reilly And Krauthammer Blast Obama For Not Denouncing Radical Islam In Wake Of Boston Bombings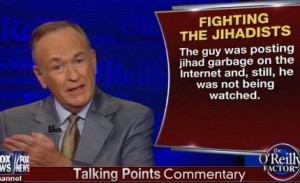 Bill O'Reilly opened his show tonight with a big question: why does President Obama refuse to call out radical Islam for being a major threat to the United States. He highlighted Obama asking people not to draw conclusions based on the motivations of the Boston bombing suspects, and, along with Charles Krauthammer, slammed the president for actively avoiding any mention of radical Islam in public. Krauthammer remarked that Obama's language avoidance is "weird" and even "embarrassing."
RELATED: O'Reilly Blasts 'Irresponsible' Brokaw For Comparing Terror And Drones: Should We 'Sit Back And Watch Americans Die?'
O'Reilly stated emphatically that Homeland Security committed a "massive screw-up" for not "flagging" Boston bombing suspect Tamerlan Tsarnaev after reportedly questioning him in 2001, saying the fact that he raised concerns with Russian intelligence should have been enough to watch him.
O'Reilly then asked why Obama has not acknowledged that radical Islam poses such a serious threat to the United States. He declared that the Boston bombers were undeniably jihadists, and called the president "seriously wrong" for cautioning against a rush to judgment on the motivations of any "specific group of people." O'Reilly acknowledged that most Muslims are good people, but they're unwilling to stand up against the more radical elements.
Krauthammer found it remarkable that Obama is going to such "comical" and "embarrassing" lengths to avoid telling people the truth, noting that Obama avoids using words like "jihad" and "Islamist." He brought up how Obama once warned against the rise of "non-secular parties" in Egypt. Krauthammer found this to be a "weird word to use" and a clear sign that Obama is actively avoiding more honest language.
Krauthammer added that FDR never sugarcoated the public about threats from the Nazis and Japan during World War II. O'Reilly claimed that people could make the connection right away after finding out where the Boston bombers were from, but in fairness, he acknowledged that despite Obama's soft language, he has not been soft when it comes to actual foreign policy. He and Krauthammer could only conclude the language avoidance is just a "PR thing."
Watch the video below, courtesy of Fox News:
—–
Follow Josh Feldman on Twitter: @feldmaniac
Have a tip we should know? tips@mediaite.com
Josh Feldman - Senior Editor