O'Reilly And Laura Ingraham Question Hillary Clinton Missing Benghazi Hearing: 'Immaculate Concussion'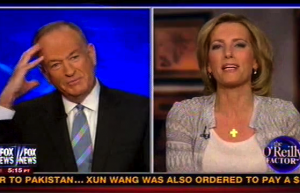 A couple of State Department officials testified earlier today on the attacks on the U.S. consulate in Benghazi, and as Bill O'Reilly phrased it, the entire thing was too boring and not a lot of new information came out. Hillary Clinton was scheduled to testify this week, but had to drop out because of a reported concussion. Of course, some questions have been raised about the timing, and tonight both O'Reilly and Laura Ingraham took on Clinton's possible "immaculate concussion."
RELATED: Democratic Rep. Goes Off On GOP, Apologizes To Benghazi Testifiers: 'You Have Been Brought Here As A Ruse'
O'Reilly said that "no light" was given to the circumstances surrounding the Benghazi attack because it was only "underlings" who testified, finding it remarkable that Clinton has gone "missing." Ingraham said that Clinton was spared grilling by House Republicans thanks to her "immaculate concussion" as both she and O'Reilly raised questions over whether Clinton actually even has a concussion.
O'Reilly suggested Clinton could still have testified on the hill, and expressed his frustration that no one with any direct ties to the Benghazi situation has been properly questioned by Congress. Ingraham jokingly suggested she may have been at Neiman Marcus earlier today, while highlighting the fact that Democrats on the House committee were taking partisan potshots throughout the hearings.
O'Reilly recalled that four State Department employees were let go in the midst of the investigations, but still nobody knows why. He also brought up Clinton's surprisingly high approval ratings with the public, but Ingraham explained it away as her not being one of the top Obama administration officials people could tar with the bad economy.
Watch the video below, courtesy of Fox News:
—–
Follow Josh Feldman on Twitter: @feldmaniac
Have a tip we should know? tips@mediaite.com
Josh Feldman - Senior Editor