O'Reilly And Laura Ingraham Willing To Give Menendez 'Benefit Of The Doubt' Over Dominican Prostitutes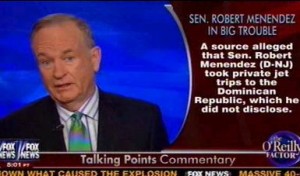 New Jersey senator Bob Menendez is currently under fire for allegedly enjoying the company of underage prostitutes when he traveled to the Dominican Republic. Bill O'Reilly took on Menendez's plight with Laura Ingraham, with both agreeing that Menendez needs to go to jail or at least get sanctioned by the Senate ethics committee if the allegations are proved true, but for now they are willing to give the senator the benefit of the doubt.
RELATED: Rachel Maddow Raises The Bar By Tackling Menendez's Politically Inconvenient Prostitution Scandal
Menendez has so far refused to comment on the story, save for a statement by his office denying any involvement in prostitution. O'Reilly allowed that Menendez is innocent until proven guilty, but made it clear that "exploiting children is the worst possible scenario for any politician" and there are still a number of unanswered questions.
Ingraham and O'Reilly agreed that if the allegations are true, then Menendez will go to prison. And as for the politics of it, Ingraham found it striking that Democrats are trying to dismiss the scandal just because it was reported on conservative site The Daily Caller, adding that in addition to the whole prostitution thing, he violated Senate ethics rules for failing to disclose the airplane trips by the donor whose office was raided by the FBI.
Ingraham said the whole thing reminds her of John Edwards and how people doubted his affair at first because the National Enquirer broke the story. She said the Caller story was well-researched, to which O'Reilly added that the women sourced are in a "shadowy industry," so they're not exactly "law-abiding citizens coming forth." O'Reilly said he's willing to trust Menendez at his word, but said there definitely needs to be an investigation. Ingraham agreed that they should give him the "benefit of the doubt" for now.
Watch the video below, courtesy of Fox News:
—–
Follow Josh Feldman on Twitter: @feldmaniac
Have a tip we should know? tips@mediaite.com
Josh Feldman - Senior Editor