O'Reilly And Megyn Kelly Agree: Gays Have 'More Compelling' Argument, Opponents Just 'Thump The Bible'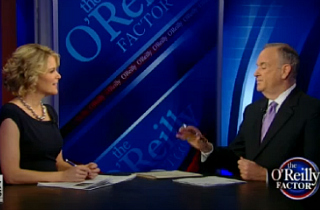 During last night's O'Reilly Factor, host Bill O'Reilly and his guest Megyn Kelly both agreed: same-sex marriage advocates have the "more compelling" argument, whereas their opponents have not done much besides "thump the Bible."
The revelation may come as a shock to many, as O'Reilly had previously made news for suggesting same-sex marriage would eventually lead to men wanting to marry ducks and other animals. But as he told Kelly last night, he is actually quite apathetic on the issue. "I don't feel that strongly about it one way or the other," he said. "I think the states should do it."
But as they discussed why same-sex marriage has become more popular recently, Kelly suggested that once you take the biblical argument out of the discussion — because "there's no arguing that" — the anti-same sex marriage side has a thin argument.
Referring to an interview she once conducted with Family Research Council president and anti-gay activist Tony Perkins, Kelly said that she has not heard "anything articulated that was particularly persuasive" from a non-biblical angle.
O'Reilly responded that he agreed with her 100 percent. "The compelling argument is on the side of homosexuals," he said. "That's where the compelling argument is: 'We are Americans. We just want to be treated like everybody else.' That's a compelling argument. And to deny that you've got to have a very strong argument on the other side."
"And the other side hasn't been able to anything but thump the Bible," he concluded.
Watch below, via Fox:
[h/t RawStory]
— —
>> Follow Andrew Kirell (@AndrewKirell) on Twitter
Have a tip we should know? tips@mediaite.com