O'Reilly And Monica Crowley Clash With Colmes Over Benghazi, O'Reilly Admits 'This Is A Partisan Play Now'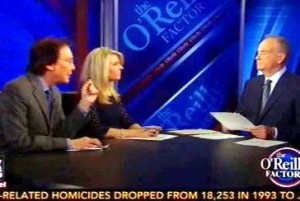 Bill O'Reilly tonight previewed tomorrow's big Congressional hearing on last year's attack on the U.S. consulate in Benghazi that left four Americans dead. O'Reilly and Monica Crowley both suspected that Hillary Clinton might be somewhat damaged by the scandal, while Alan Colmes slammed the whole investigation as a witch hunt. O'Reilly clashed with Colmes over the findings of the official report, but agreed that "this is a partisan play now."
Crowley pointed to Clinton as a "central figure" in the scandal, bringing up claims that Clinton actually cut out the counterterrorism division in the midst of the aftermath. Colmes pointed out that he spoke to Tom Pickering, the co-author of the official State Department report, who said he never found anything "untoward" in the investigation.
O'Reilly shot back that the report blamed a "systemic failure" for what happened, and pressed Colmes on why he didn't ask Pickering more about why there was such failure. However, he acknowledged that the whole investigation is a "partisan play now," with the White House trying to "make sure nothing bad comes out," while Republicans "will try to hang the president and Hillary Clinton."
Crowley declared that "the buck always stops with the person in charge," and said Clinton and Obama need to be held to account. Colmes decried the whole thing as a "partisan witch hunt" from people who have been after the president since day one. Crowley predicted that Clinton and Obama will avoid responsibility by pinning the blame on former Defense Secretary Leon Panetta.
Watch the video below, courtesy of Fox News:
—–
Follow Josh Feldman on Twitter: @feldmaniac
Have a tip we should know? tips@mediaite.com
Josh Feldman - Senior Editor