O'Reilly And Monica Crowley Rip Jamie Foxx For Trayvon Martin Shirt, Colmes Defends 'Double Standard'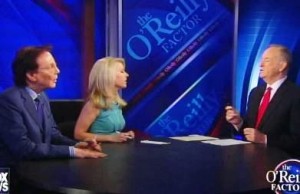 At this Sunday's BET Awards, Jamie Foxx wore a Trayvon Martin t-shirt that largely went uncommented on until tonight's O'Reilly Factor. Bill O'Reilly and Monica Crowley found it outrageous that Foxx would wear the shirt, exclaiming that a white celebrity who wore a Zimmerman t-shirt would be immediately condemned. Alan Colmes defended this supposed "double standard" as based in views of the racial power structure in the U.S.
RELATED: Jamie Foxx Wears Trayvon Martin T-Shirt During 2013 BET Awards
O'Reilly declared Foxx wearing the shirt was "racism on display." Colmes acknowledged there may have been a double standard, but argued there is a perception of the white power structure in the United States that influences how people view and judge things. O'Reilly said that Foxx "doesn't know what happened" the night of Martin's death, but Colmes said he has a free speech right to do it.
Colmes admitted there would be a very different reaction if a white actor had worn a Zimmerman t-shirt, and again brought up the American white power structure, which led Crowley to remark, "You do know we have a black president." She had no doubt any white person with a Zimmerman shirt would be condemned as a racist, a double standard she and O'Reilly agreed were "morally wrong."
Crowley said the way to true social equality is to "erase these double standards," because people like Paula Deen and Mel Gibson are going to have everyone targeting them, it's wrong to give people like Foxx and Alec Baldwin a pass.
Watch the video below, courtesy of Fox News:
—–
Follow Josh Feldman on Twitter: @feldmaniac
Have a tip we should know? tips@mediaite.com
Josh Feldman - Senior Editor