O'Reilly And Romney Surrogate Try To Figure Out Why More Voters Personally Like Obama Over Romney
O'Reilly And Romney Surrogate Try To Figure Out Why Voters Like Obama Over Romney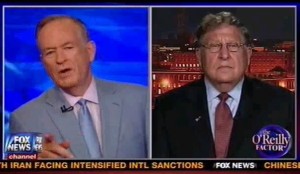 Even though many people disapprove of President Obama's policies, they like him as a person. A new poll shows that 60 percent of voters think Obama is the more likable candidate, compared to only 30 percent who say the same of Mitt Romney. On his show tonight, Bill O'Reilly brought on Romney campaign advisor John Sununu to ask him if the news surprises him at all.
RELATED: Matthews: Is The Economy So Bad 'Not Particularly Well-Liked' Romney Could Beat Obama?
Sununu predicted that because of the "rough couple of weeks" Obama has had, especially over his 'you didn't build that remarks," his popularity may take a hit. O'Reilly pointed out George W. Bush was rather unpopular in the latter years of his presidency, but voters always "separated his job performance from the man," which he said appears to be the case with Obama.
Sununu agreed with O'Reilly, but continued to hammer Obama over his small business remarks, which he said were taken out of the "community organizer handbook." O'Reilly, however, had to ask why Romney's likability ranking is so low, saying he's a "fairly composed" person whose calm demeanor stands in contrast to, say, O'Reilly's.
O'Reilly asked what Romney has to do to get more voters to like him; "sing an Al Green song?" Sununu said the American people just need to see him, but O'Reilly said that people are seeing him and being reminded of his wealth almost every time. Sununu said the 2008 election was an exercise in "style over substance," and expressed hope that given how bad the economy is, people will focus more on the substance.
Watch the video below, courtesy of Fox News:
Have a tip we should know? tips@mediaite.com
Josh Feldman - Senior Editor