O'Reilly Apparently Contradicted Himself on Witnessing Nun Killings; Bill Responds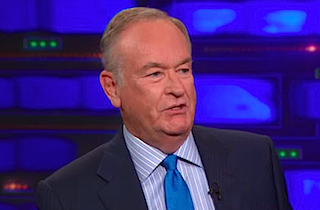 Another day, another apparent embellishment on the part of Fox News star Bill O'Reilly. Following Mother Jones' reports about his "war zone" stories in Buenos Aires and a former Washington Post editor's claims that he lied about his experience covering the JFK assassination comes a new discovery from liberal watchdog group Media Matters that dates back to O'Reilly's time spent in El Salvador in the early 1980s.

On multiple occasions, including a 2005 radio segment and a 2012 episode of The O'Reilly Factor, O'Reilly told a story about seeing nuns "get shot in the back of the head" in El Salvador while he was there covering the civil war there for CBS News.
But as Media Matters points out, the incident he described, in which Salvadorans raped and shot four U.S. nuns happened in December 1980. O'Reilly did not go to El Salvador until after he was promoted to CBS News correspondent in 1981, according to his own book, The No Spin Zone
.
RELATED: Media Matters Launches Petition to 'Hold Bill O'Reilly Accountable'
Curiously, Media Matters pointed to another interview O'Reilly gave to WVVH-TV's American Dreams Show in 2009 — between the other two instances — in which he appears to admit he arrived in El Salvador "right after" the killings occurred.
When asked about the challenges to O'Reilly's Falkland Islands war stories, a representative for Fox said: "Chairman & CEO Roger Ailes and all senior management are in full support of Bill O'Reilly." And when asked about these allegations, a Fox spokesperson responded to Mediaite with the following statement:
"Bill O'Reilly has already addressed several claims leveled against him. This is nothing more than an orchestrated campaign by far left advocates Mother Jones and Media Matters. Responding to the unproven accusation du jour has become an exercise in futility. FOX News maintains its staunch support of O'Reilly, who is no stranger to calculated onslaughts."
UPDATE — 7:27 p.m. ET: In response to the allegations put forward by Media Matters, Bill O'Reilly submitted the following statement to Mediaite. He claims that when he referred to seeing nuns "get shot in the back of the head," he was referring to images and not the actual events in person.
O'Reilly states:
"While in El Salvador, reporters were shown horrendous images of violence that were never broadcast, including depictions of nuns who were murdered. The mention of the nuns on my program came the day of the Newtown massacre (December 14, 2012). The segment was about evil and how hard it is for folks to comprehend it. I used the murdered nuns as an example of that evil. That's what I am referring to when I say 'I saw nuns get shot in the back of the head.' No one could possibly take that segment as reporting on El Salvador."
UPDATE — Feb. 26, 2:10 p.m. ET: Media Matters President Bradley Beychok has responded to O'Reilly with the following statement to Mediaite:
"Bill O'Reilly is an artful misinformer and this statement is right out of his playbook. Instead of either just acknowledging that he was wrong or backing up his claim to have witnessed nuns being executed, his response sidesteps the issue entirely and never backs up his original claim. Bottom line: O'Reilly admits that Media Matters got this one right."
—
Watch the most recent example of O'Reilly telling the story in 2012 below, via Fox News:
[Photo via Fox/screengrab]
— —
>> Follow Matt Wilstein (@TheMattWilstein) on Twitter
Have a tip we should know? tips@mediaite.com