O'Reilly Asks Reverends: Can Black Christians In Good Faith Support The Democratic Party?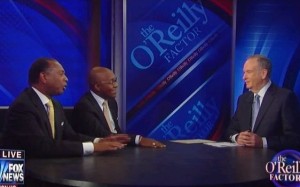 Bill O'Reilly played a video of black bishop E.W. Jackson in Virginia saying that Planned Parenthood is worse than the KKK for African-Americans and asked why any black Christian would support a pro-gay party. O'Reilly brought on two black reverends to ask them if Jackson had any legitimate points or if he was just blowing smoke.
RELATED: O'Reilly Guests Clash Over Obama's Overwhelming Support In The Black Community
Reverend Jacques Degraff criticized Jackson for not having a "constructive response" to his criticisms of the Democratic party, and argued that black people are smart enough to be able to make their own decisions on who to support based on looking at the policies supported by both sides. He admitted he is personally pro-life, but he does not reject the Democrats just for that one issue alone.
O'Reilly brought up another point Jackson made in his video sermon: it is wrong to compare the civil rights battles of the 1960s to modern-day gay rights battles. Reverend Michael Walrond thought that Jackson's position was a mostly "venomous" one, but said that he believes "everyone's oppression is unique" and it would be unfair to compare them.
O'Reilly closed the segment by asking, as Jackson did, why black Christians could, in good faith, support the Democratic party considering its positions on social issues. Degraff acknowledged the Democrats are not perfect, but the Republican party is not offering reasonable alternatives for African-Americans. O'Reilly argued that a "vibrant economy" would benefit black Americans, to which Degraff brought up equality of opportunity and how the black community has been hit particularly hard by the tough economy.
Watch the video below, courtesy of Fox News:
—–
Follow Josh Feldman on Twitter: @feldmaniac
Have a tip we should know? tips@mediaite.com
Josh Feldman - Senior Editor