O'Reilly Battles With NAACP Executive Over Whether Romney Deliberately Wanted To Get Booed
O'Reilly Battles Over Whether Romney Deliberately Wanted To Get Booed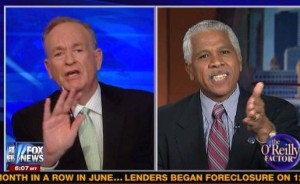 On his show tonight, Bill O'Reilly tore into claims that Mitt Romney went into the NAACP convention deliberately trying to get booed in order to pander to the racist voting bloc. He called it a ridiculous smear, and when his guest, NAACP Washington bureau director Hilary Shelton admitted it was a possibility, O'Reilly lit into him. The two men got in a huge shouting match about whether Romney deliberately said provocative things to the crowd to get the negative reaction.
RELATED: Lawrence O'Donnell: Did Romney Campaign Want To Get Booed At NAACP To Appeal To Racist Voters?
O'Reilly opened the show by highlighting clips of MSNBC contributor Goldie Taylor and House Minority Leader Nancy Pelosi accusing Romney of wanting to get booed by the NAACP. O'Reilly made it clear no such assertions were coming from anyone in the Obama campaign, but said it was "innuendo" and a strong theme coming from the "left wing."
Shelton told O'Reilly that he could not say for sure if that was Romney's motivation, but he could not rule it out as a possibility. He said that many people in the NAACP audience were "offended" by the way Romney laid out his position on the Affordable Care Act because of the millions of African-Americans who weren't insured before the law passed. O'Reilly said that wasn't what Taylor and Pelosi claimed, namely that Romney "antagonized" the crowd on purpose.
Shelton told O'Reilly he agreed completely with that assessment. He insisted that Republican candidates who have spoken to the NAACP in the past have not gotten the kind of reception Romney did, which O'Reilly heavily disputed. Shelton told O'Reilly that was an "untrue" statement.
O'Reilly accused Shelton of wanting Mitt Romney to pander to the African-American crowd instead of being honest about what he believes. Shelton dismissed the idea that Romney wanted to reach out to African-Americans, suggesting he could have at least tailored his message a little to the audience. Shelton attacked Romney's position on education spending, to which O'Reilly lit into him and said outright that Shelton was lying.
RELATED: Megyn Kelly Panel Battles Over Whether Romney Planned On Getting Booed By NAACP
At the end of the segment, Shelton reiterated once more that he can't rule out the possibility that Romney deliberately wanted to provoke the negative reaction from the crowd.
Watch the full segment below, courtesy of Fox News:
Have a tip we should know? tips@mediaite.com
Josh Feldman - Senior Editor