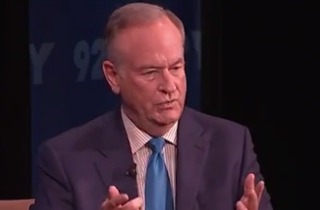 On his Fox News show Wednesday evening, Bill O'Reilly wrapped up the program by asserting that his wildly successful and endlessly promoted book Killing Jesus "has been pretty much ignored in the media." The statement came as part of his "tip of the day segment," wherein he encouraged viewers to be skeptical of what they read online.
They might also be skeptical of what they see on TV.

Has O'Reilly's book, which was released in September, been ignored by the news media? Not hardly.
When the book was released, O'Reilly went on the type of promotional tour Kris Jenner would kill one of her children for (probably the one that got fat):
Killing Jesus was reviewed Sep. 23 in USA Today.
On Sep. 29, O'Reilly hawked his book on CBS's 60 Minutes.
On Sep. 30, he did the same on NBC's Today.
On Oct. 30, he was on the since-canceled Katie to promote the book.
O'Reilly appeared on CBS's Late Show in Oct. 2013 and again in Mar. 2014. Both times, the book was promoted.
Erik Wemple at the Washington Post critiqued the book on Nov. 11.
On Nov. 16, O'Reilly was on Tonight Show to promote the book.
On May. 19, O'Reilly pitched his book on ABC's Jimmy Kimmel Live.
Again at the Post,  Sally Quinn published a conversation she had with the author about it. That was as recent as Mar. 21.
Perhaps this is what it means to be "ignored" when you're O'Reilly, the #1 cable news host in America.
Watch below, via Fox News:
[Image via 92Y/screengrab]
— —
>> Follow Eddie Scarry (@eScarry) on Twitter
Have a tip we should know? tips@mediaite.com